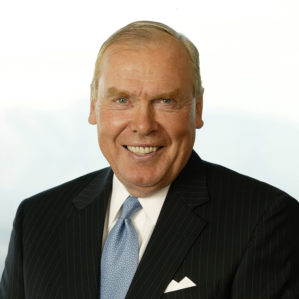 Jon M. Huntsman was the founder and Chairman of Huntsman Corporation, a global manufacturer and marketer of specialty chemicals.
Four decades ago, Mr. Huntsman began a small entrepreneurial plastics packaging business. Today, its operating companies manufacture products including chemicals, plastics, automotive, aviation, textiles, footwear, paints and coatings, construction, technology, agriculture, health care, detergent, personal care, furniture, appliances and packaging products. Originally known for pioneering innovations in packaging and, later, for rapid and integrated growth in petrochemicals, the Huntsman Corporation today has 13,000 employees and operates from over 100 locations worldwide. The Company had 2008 revenues of approximately $12 billion.
Mr. Huntsman earned his undergraduate degree at The Wharton School of Business at the University of Pennsylvania, and subsequently earned an MBA from the University of Southern California. He was awarded thirteen honorary doctorate degrees at various universities. Mr. Huntsman was a U.S. Naval Gunnery Officer. He served under President Richard M. Nixon as Special Assistant to the President and as White House Staff Secretary.
Jon Huntsman authored a book on corporate ethics entitled, Winners Never Cheat: Everyday Values We Learned as Children (But May Have Forgotten). The second edition is entitled Winners Never Cheat: Even in Difficult Times.
Mr. Huntsman is widely recognized as one of America's foremost concerned citizens and philanthropists. His lifetime humanitarian giving, including contributions to the homeless, the ill and the underprivileged, exceeds $1.2 billion and has assisted thousands, both domestically and internationally. In 2001, Mr. Huntsman was presented Ernst & Young's Entrepreneur of the Year Award. In 2003, he received the Humanitarian of the Year Award from CNN's Larry King. The Chronicle of Philanthropy placed Mr. Huntsman in the second place position on their 2007 list of largest donors. (Dec 2007) And in November, 2008, the American Cancer Society presented to Mr. Huntsman its Medal of Honor for Cancer Philanthropy.
Mr. Huntsman and his wife, Karen, founded the Huntsman Cancer Institute in 1995 to accelerate the work of curing cancer through human genetics. The Institute is now one of America's major cancer research centers dedicated to finding a cure for cancer, as well as a state-of-the-art hospital treating cancer patients.
Mr. Huntsman died on February 2, 2018, leaving behind a tremendous legacy.