Huntsman students hail from across the country and around the world but what defines them is their international perspective. They share an eagerness to learn about languages, cultures and ideas different from their own.
Huntsman alumni go on to intern and work  in a variety of fields in the private, public and non-profit sectors. Huntsman graduates are pursuing careers around the world in diverse areas such as finance, consulting, politics, public policy, law, marketing, medicine, diplomacy, non-profit management, public health, and international development.
Huntsman alumni have become Rhodes, Marshall and Fulbright Scholars, and many attend graduate and professional school, usually after a few years of work.
STUDENT & ALUMNI PROFILES
There is no typical Huntsman student – the course of study, participation in extracurricular activities and travel opportunities vary from person to person. For that reason, we encourage you to read these profiles of some of our students and alumni to learn more about each one's unique experience with the Program.

CLASS OF 2019 POST-GRADUATE PLANS
The data below represents post-graduate employment for the Class of 2019. Data was collected in May 2019 using a self reported online survey. You will find a breakdown of employer industry, job function, first-destinations, and geographic locations.
In addition to the data below, from the Class of 2019, one student is pursuing an MD/MPH at the Icahn School of Medicine at Mount Sinai. One other graduate was the recipient of a Fulbright Scholarship in Mexico.
U.S. Locations
Boston, MA – 3
Chicago, IL – 1
La Jolla, CA – 1
Los Angeles, CA – 2
New York, NY – 18
Philadelphia, PA – 2
Phoenix, AZ – 1
San Francisco, CA – 3
Seattle, WA – 1
Washington D.C. – 2
Global Locations
Dubai, United Arab Emirates – 1
Frankfurt, Germany – -1
London, UK – 1
Mexico City, Mexico – 2
Tokyo, Japan – 1
The data below represents the many unique summer experiences that Huntsman students participate in. From language courses, to internships, see below for information on how Huntsman students typically spend their summers.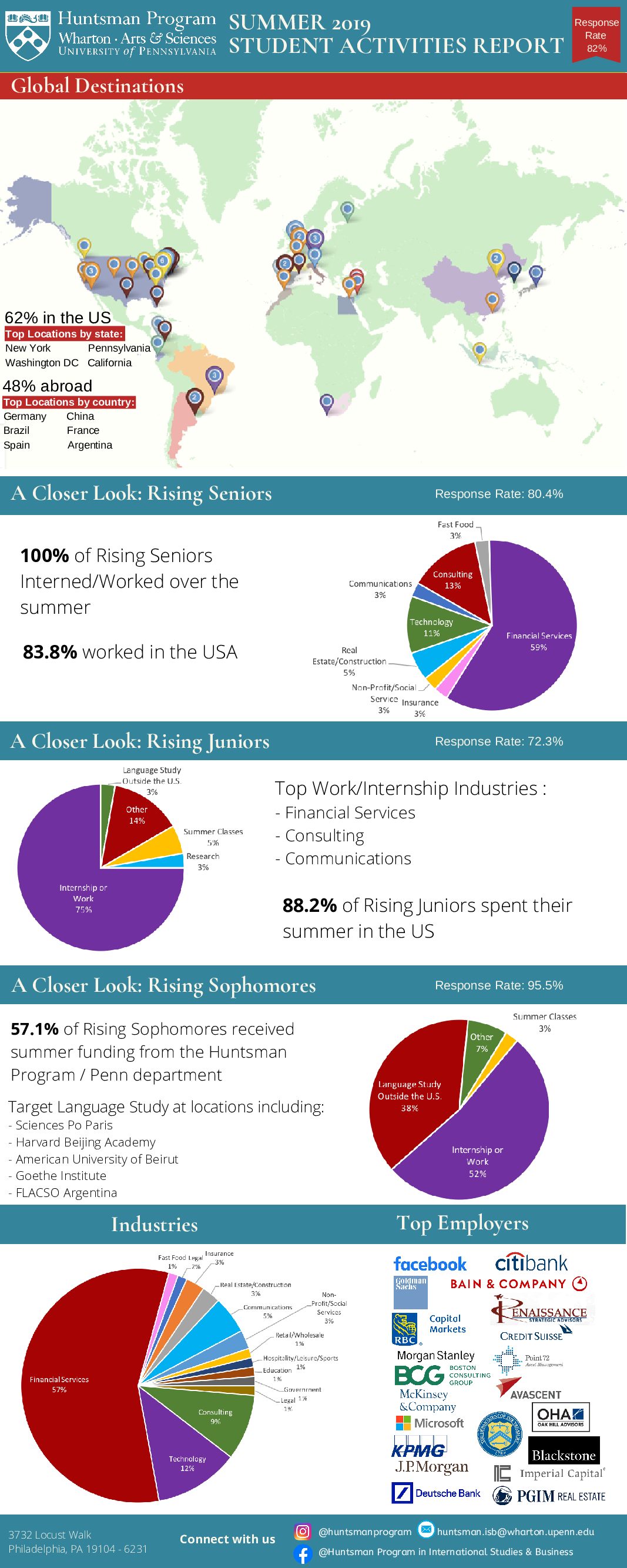 Huntsman graduates disperse across industries and the world, but continue to feel connected to the program and often support one another through professional networking, including returning to campus to recruit current students for internships and post-graduate jobs.