The Huntsman Program in International Studies & Business is Penn's unique undergraduate four-year jointly administered coordinated dual degree program in language, the liberal arts, and business.

The Huntsman Program supports the development of globally-minded scholars who become engaged citizens, creative innovators, and ethical leaders in the public, private, and non-profit sectors in the United States and across the globe.
The Huntsman Program journey is unique for every student. The student and alumni profiles tell their stories and demonstrate how their paths as Huntsman students shaped their experiences at Penn and beyond.
THE HUNTSMAN PROGRAM PREPARES STUDENTS TO BECOME GLOBAL LEADERS IN TODAY'S COMPLEX AND INTERCONNECTED WORLD.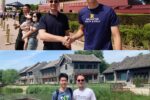 从北卡来到中国 International student high school friends: Liu Shitong (Fred) & Geng Taolun (Thomas) None of my family in North Carolina speaks Chinese. Neither do any of them even speak a second language apart from English. Four years ago I picked up Tuttle Basic Chinese from Barnes and Noble. I never thought venturing down this rabbit hole of ...Read More
Sean Rickter Class Year: 2016 Target Language: Japanese Current Role: MBA Candidate at Harvard Business School A Conversation with Sean Rickter (Huntsman 2016) By: Jeslyn Li '26 What did you study at Huntsman and when did you graduate?  Hi, I'm Sean, a 2016 grad from Los Angeles. I was a Japanese...Read More
STATEMENT ON INSTITUTIONAL RACISM & STRUCTURAL INEQUALITY
"The Huntsman Program leadership stands in solidarity with members of the Black community grieving these recent killings as well as with any and all who continue to feel vulnerable, marginalized, and discriminated against as a result of their race, origin, religion, sex or sexual orientation."