Time to Act!
By: Alejandra Soria Andrade
Alejandra Soria Andrade is a current Huntsman Student in the Class of 2025 and a Penn World Scholar. She recently traveled to Paris to participate in the Women's Forum for the Economy and Society and represented her home country Ecuador.
If you've ever wondered how valuable it can be to go over every detail of an email, this is your sign!
A few months ago, Reyhan, a fellow Penn World Scholar, and I had the opportunity to reconnect. That day, she told me about an organization that helps leaders from all over the world develop professionally and humanistically. When I returned home, I signed up for the initiative to receive any valuable opportunities that would assist me in growing as a leader.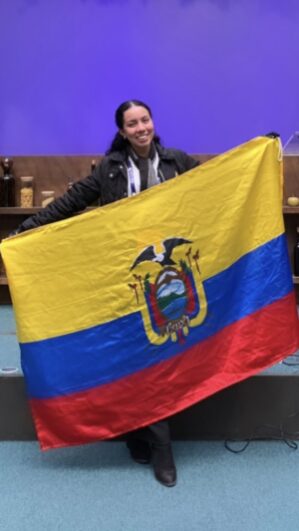 A few weeks later, at the end of a lengthy email, I was invited to apply to attend the Women's Forum for the Economy and Society Conference; it seemed too good to be true. This piqued my interest even more, and I decided to contact Emma, one of the event's main organizers, to learn more about it. During the call, Emma did an amazing job inspiring me to apply to become a participant in the Youth Voice Ambassador's program, in which I would also have the opportunity to represent my home country, Ecuador.
That same day, I applied to be a part of this global community. Just a few weeks later, I received a formal invitation to join the Youth Voice Ambassadors' program. In addition, I had also been selected to be an Ecuador representative at the 17th Annual Women's Forum for the Economy and Society, held in Paris, France.
The 27th of November arrived, and with 18 hours of flying ahead of me to reach Paris, France, I had no idea what to expect. Once at the first event of the day at the BCG office in Paris, I met my colleagues–now acquaintances–from the Youth Voices Ambassador program and launched into a discussion about fighting gender inequality. These are young leaders who stand out for their leadership potential and inspirational development in our society. During the discussion, we debated on topics related to women's participation in areas such as STEM, peace, climate, and health. For this, we were also divided into groups to be for and against our corresponding groups after learning and listening to different points of view.
My assigned group was Peace, and my position was to be in favor of the following question: "Should women and girls be prioritized in conflict resolution and peace-keeping processes?" Following the conclusion of the debates, we participated in small workshops, such as Speak Like a Leader, Network Like a Pro, and Fight Unconscious Bias, to improve our leadership skills. Through these sessions, I learned more about my strengths, weaknesses, and the skills needed for a successful professional and leadership career.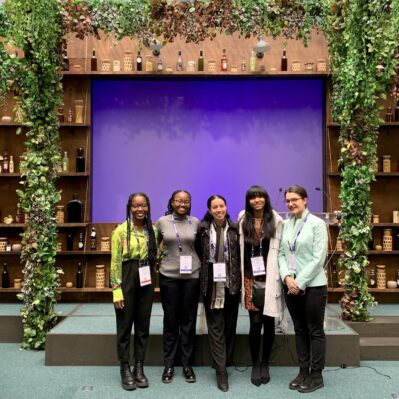 During the next two days of the forum at the Palais Brongniart on November 29-30th, our main goal was to come up with new solutions to combat ongoing gender inequality, which we tackled head-on in our energetic, yet realistic discussions. Moreover, the Women's Forum also highlighted the urgency of finding inclusive solutions in the midst of an epidemic of discrimination and violence against women and girls in Iran, Afghanistan, and Ukraine, as well as attacks on reproductive rights in the United States, and how we need a new strategy.
On top of that, something that really stood out to me was that as part of their CEO Champions initiative, the forum gathered more than 50 CEOs who demonstrated their commitment to promoting women's advancement in the private and public sectors. More than 230 speakers from various regions, cultures, and sectors shared their insights and inspiration across 85 sessions, representing more than 160 countries. As a result, a few speakers and phrases that resonated with me also provided a more comprehensive understanding of leadership and female empowerment on topics I wasn't aware of prior to the conference:
– Mary Robinson, Former President of Ireland: "You can make climate change personal in your life, get angry against the ones who don't, and take action."
– Alexandra Soto, COO of Financial Advisory at Lazard & Co. Ltd.: "There are three A's to enact leadership in any gender: Awareness, Accountability, and Action. We all have a role to play, don't wait forothers to do it."
– Anne Rigail, CEO of Air France: "Once you become aware of the environmental issues and challenges, you NEED to act. There is no coming back"
– Norma Bastidas, Guinness World Record for Longest Triathlon: "People always tell you not to do it, but that's when you should NEVER stop"
Without a doubt, this experience enabled me to actively participate in initiatives with significant potential for the development of women in our society. I was also able to apply concepts learned in the Huntsman Program and the seminar I took with Professors Sil and Singh during my first year at Penn. Concepts that, without my realizing it at the time, enabled me to research inclusive practices throughout history and discuss and contribute to new solutions. I could not be more grateful to be a part of the Huntsman Program–a community that, through its network and international curriculum, assists its students in becoming global leaders and cooperative individuals.
Diversity in the workplace is something I've always advocated for, and having had the opportunity to meet such inspirational leaders from all over the world, with unprecedented backgrounds similar to mine, made me realize that everything depends on our own perception of how we see ourselves. As a final reminder, please connect with as many people as you can, and always read your emails from beginning to end. You never know what will forever switch your perception of the world around you.
It's time to act!