By Mariana Velasco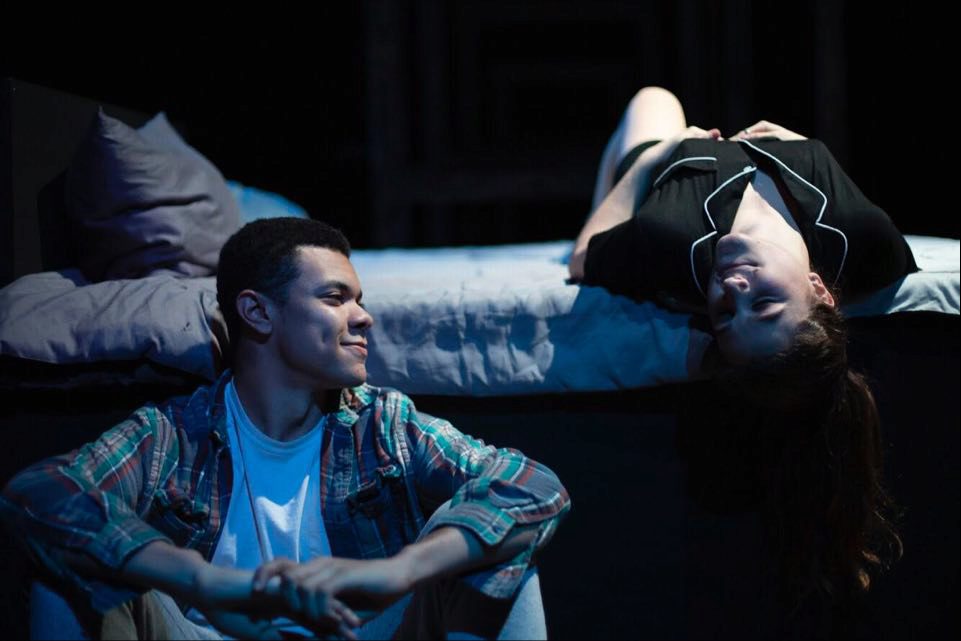 Theo is a current sophomore from Austin, Texas targeting Spanish and involved in improvisational comedy on campus.
Tell me about your background and what drew you to Huntsman. I am both Nigerian and British, and I am a first generation American, so I have tri citizenship. I grew up in the New York area until I was eleven and then moved to Texas. When I was looking for a college experience, I immediately thought about the Northeast, I missed it growing up there and I knew it had a lot of opportunities. But also, on a more philosophical level, I felt like I could be understood in Huntsman. My high school experience was a little limiting in a sense because my neighborhood in Austin was not as diverse, and it felt like there was a part of myself that wasn't being accessed. It is not like everyone in Huntsman is Nigerian and British, but rather that everyone has multiple perspectives to an issue. I think that as Huntsman students we are diverse communicators; I see people that interact with their friends in their native language and then seamlessly switch to another setting regardless of language or context. Even by nature of being dual-degree you have to communicate in both the College of Arts and Sciences, and Wharton – completely different styles. It feels like we are navigating multiple worlds – I find that really impressive.  
What are some of the main takeaways from your first year in Huntsman? You know, it is hard to parse what is college and what is Huntsman unique. But it does feel like a dream come true. I still remember December 13th, 2018, the day I found out I got into Huntsman and ever since then talking to people. The thing that sticks with me is the connection. The second we got in we made this messenger group chat. And before freshman year even started, I already felt like I knew people and had friends waiting for me – that feeling only grew from the first day in KC3. One of the biggest things that you take away from college is the connections that you make with others, and Huntsman just takes that to another level. You connect with each other over this common philosophy despite the fact that we all have very different backgrounds. It makes me confident that wherever I go, I will be better at connecting with people that I would have been without this experience. 
What is your connection to the language? Spanish has always felt like home. As a multicultural person and a first generation American when I was growing up the teachers I connected with the most were my language teachers because they were immigrants. To have a connection with an adult who was sharing a part of their culture was very forming – without them I might have taken a very different stance towards my own culture. To me, language teachers do a very important job in introducing multiculturalism into our society. 
What are you up to besides academics? My biggest commitment outside of the classroom is Without a Net: Penn´s Improvisational Comedy Troupe. We are the only improvisational troupe on campus. I used to do improv in high school and now I spend at least nine hours a week with them just having a lot of fun. It is another way for me to connect with people on the stage and the audience. The thing about improv is that every experience is different. It is all about creating this trusting space where you can feel safe and comfortable with yourself and then just letting things unfold by themselves. I think everyone could use some of that. Anything that you do on campus where you are working with other people to produce something will likely end up in new friends and a positive experience. 
Fun question: the College or Wharton? Since it is a fun question, I will give you a fun answer: Wharton is my family, the College are my friends. No offense to accounting and finance, but I have a little more fun with random classes from the College that I would never have expected to take. Wharton is like family in the sense that you sort of know what to expect, sometimes it annoys you, but you love it all the same. Both family and friends are important. Although I might end up in business, my liberal arts education will probably heavily influence who I am and how I look at things. I am shooting for a Political Science minor in International Development because my dad is Nigerian and I want to connect better with that part of the world. The fact that Nigeria is underdeveloped affects me – I see how beautiful and hard-working people are. Thinking about my Wharton education, I just know I want to make a difference if I can. 
We are looking for passionate writers! If you want to interview another fellow Huntsman student or write an article for the Huntsman student blog reach out to marianav@wharton.upenn.edu.