By Mariana Velasco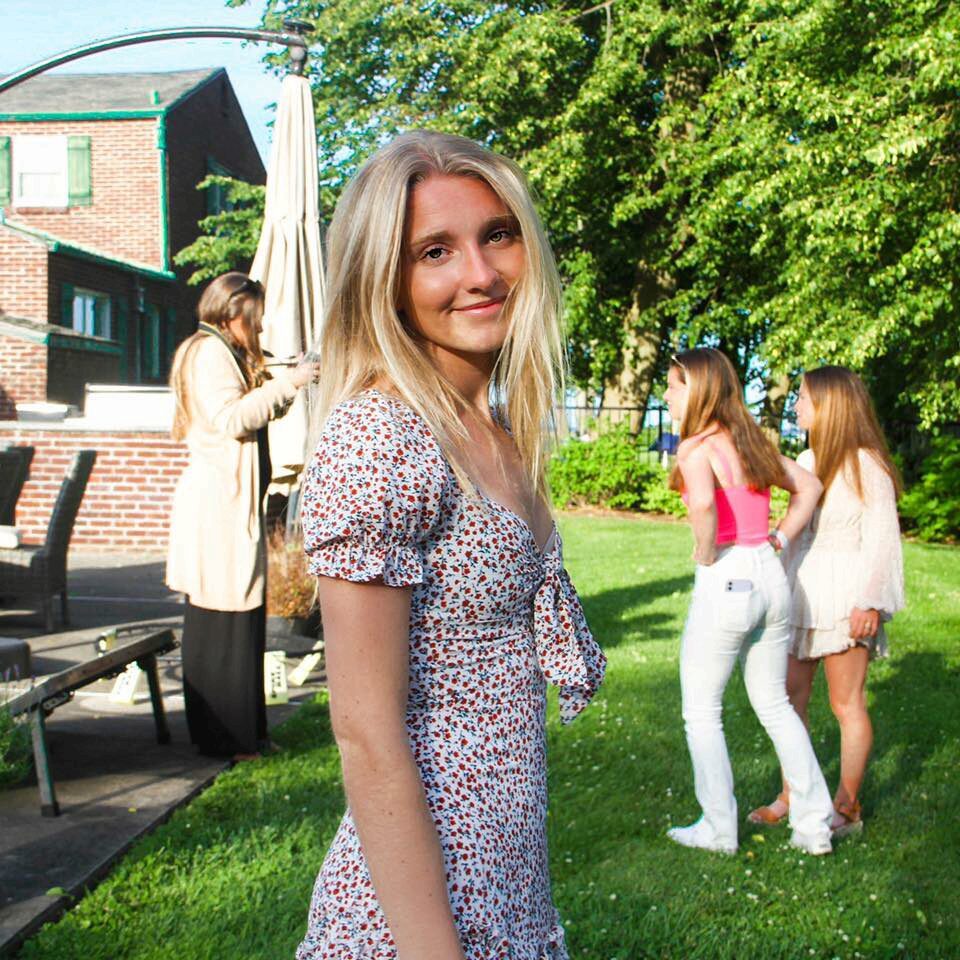 What is your target language and where are you from? I am a current freshman from New Jersey targeting Spanish. My family is from somewhere around Eastern Europe, so I have always wanted to go there –  my dream trip is to hit Russia and Ukraine with one of my best friends. I studied Mandarin for five years and really loved it in high school, so it is actually super cool to be surrounded by many Chinese targets and people from China in Huntsman. Tomorrow is the Lunar New Year, so we are all going to Chinatown. 
How has your freshman experience this year been so far? It has been great – everyone in our hall has a different flag. Although we are not able to physically travel this year, I am mentally all around the world. We all moved in a couple of weeks ago for the Spring semester, but it wasn't that weird because we did this Huntsman seminar together in the Fall. The Huntsman faculty directors (Dr. Rudra Sil and Dr. Harbir Singh) teach the class together and it has been a lot of fun. I also love my Spanish class because we are learning about Spanish history, and there is someone down the hall from Spain, so if I have any questions I can always ask him. I am really learning history from multiple perspectives – the professor really places emphasis on the fact that history is not black and white. Personally I love history, would totally recommend this book to anyone interested, it is called Prisoners of Geography by Tim Marshall. It talks about how geography influences history. 
How did Huntsman and Penn come into your life? This is such a crazy story! So it was junior year of high school and I was in this BC Calculus class with a girl that had been in school with me since kindergarten. We had never really talked until then, but she ended up getting into Penn Early Decision and told me about Penn. I was initially against it because I didn't want to go to school in Philadelphia, but she forced me to take a look. And then I found out about Huntsman – I immediately knew that it was exactly what I wanted and wanted to apply Early Decision too. She actually lived in English House, so I got the chance to visit our dorm with her and somehow ended up bumping into other Huntsman students in Kings Court. We joked that if she hadn't sat down next to me in that random math class in high school maybe I wouldn't have ended up here. I am glad I really went for it! 
What aspects of Huntsman appealed to you the most at first glance? Definitely the language component. I feel like in other schools even though they have an International Studies program, language is not placed at the forefront of that. How study abroad is fully integrated into your academic curriculum is super cool too. I was a little bit unsure about the International Studies major because I decided pretty early on that I wanted to focus on business, but I figured I would like that aspect too. 
What about business? In terms of business, I was very interested in it. When I was a freshman in high school, I started my own surf camp for girls because I grew up as a life-long surfer and I didn't really have any female friends to go surfing with. I didn't have as much confidence surfing with the boys all the time and didn't want other girls to feel the same way, so I started my own surfing business. It ended up going really, so I got exposed to what it is like to manage a business, having employees, and scheduling lessons with moms for their children. Combined with economics courses, business made a lot of sense to me.  
What are you involved in on campus? I did pro bono consulting for Wharton Women last semester. Greek life recently. I started the Penn Surf Club last semester, which definitely kept me busy, but it has been so much fun. I have surfed and have been living on the beach pretty much my entire life, so having that community is super important to me. I started my surf team in high school, but that was more competitive. At Penn I think that it will be a little bit more laid-back, just an opportunity to meet new people and have fun together.
We are looking for passionate writers! If you want to interview another fellow Huntsman student or write an article for the Huntsman student blog reach out to marianav@wharton.upenn.edu.