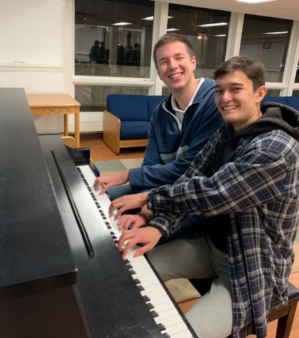 By Couloir X. Hanson
Two long-lost Slavic kindred spirits reunited by their passion for the Huntsman Program. "We've had oddly similar life trajectories from attending local public schools to American boarding schools to targeting German in the Huntsman Program. Sometimes it feels like we're taking turns living the same life."
The Basics: Son and Szilveszter are freshmen targeting German. Son hails from Slovakia, Vietnam, Czechia, and St. Paul's School; Szilveszter comes from Budapest, Warsaw, and the Hotchkiss School. Son plays club soccer; Szilveszter is the manager of Penn Basketball. Most importantly, they are roommate goals.
How has American culture shaped your quite international lives?
Son: I learned English through Hollywood movies. And the beauty about film is that film isn't about pictures themselves, but about culture. Thus, American culture was translated into Czech culture. I grew up alongside Chuck Norris. When I went to boarding school in the States, I finally felt at home with the culture, more so than when I was juggling Vietnamese and Slovak identities. I can sometimes play off being American; in Czechia, there's no such thing as a first-gen Czech. The longer I stay here, the greater the distance I feel from my friends back home. Fellow Huntsman-ites understand this pull to multiple cultures, and I find it easier to relate to them.
Szilveszter: I grew up watching American sports my whole life. My dad subscribed to NFL League Pass when I was around 7 years old, so I pretty much grew up talking about the NFL and the NBA at home. My unique privilege was being allowed to stay up to watch the NBA Finals or the Super Bowl every year, which both start at 2AM local time. To provide context, in Eastern Europe, this is quite unusual, as US sports have not taken over yet. When I came to the US, I realized everyone around me could suddenly relate to what I was passionate about. This felt really good. I also tell everyone I meet that my two years at Hotchkiss, in general, were the two best years of my life. The people, the place and the connections I made are all things that have a very special place in my heart and identity. At Penn, I've been able to further pursue my passion for sports and actively attempt to shape our basketball culture.
What has been your favorite class? 
Son: CIMS 101. I've always had a special connection to American films. Growing up, I learned English watching everything Hollywood produced and absorbed American culture. I would shoot my own westerns with my siblings and upload it to YouTube. For a while, I've considered getting a formal education in cinema recoup a childhood passion. In CIMS 101, not only do I get that introduction, but I am also exploring the technical and bureaucratic aspects of early cinema. In a way, this class embodies the Huntsman education: it combines culture (highlighting French, Italian, Indian films) and business (examining early producer oligopolies).
Szilveszter: LGST 207—Sports Business Management. Our teacher Rob DiGisi is amazing. When I was in the college process and looked at the Penn website, he was what I envisioned an ideal Penn professor to be like. He has also just done amazing things in the past: He pitched the idea for the NBA Store to David Stern; has his own marketing company and very much wants to make people passionate about sports to the extreme. He initiates opportunities: he offers breakfast with him, internships, events, without expecting you to respond to everything. The class is very discussion-based. You can see he's doing it for the love of sports.
What do you do outside of class?
Son: In the fall I played Club Soccer and did a stock pitch for WAI. My social life revolved mainly around Huntsman students; I decided I'd like to add on to that core group and branch out this semester. I recently joined SIC, MUSE SIP, and the SFCU. I picked these clubs not only because they also have tight-knit communities, but because they're diverse in terms of student composition (across the four schools). Club Soccer remains my favorite activity. It's extremely demanding physically and talent-wise, but it allows me to relax and let off steam. I started playing soccer when I was 4 years old and want it to be something that continues throughout my life.
Szilveszter: I'm the manager of the Penn Basketball team. This has definitely been the highlight of my year – an amazing group of student-athletes, coaches and staff. The amount of cumulative basketball knowledge and passion for the game is truly amazing. I also reconnect with old high school friends on the debate circuit by traveling to tournaments across the East Coast with Penn Debate Society on the weekends. It's a very good competitive community. We're ranked fourth in the country right now. It's also a very good social group that gives good academic advice because the members have many academic strengths, being from the Engineering School, Wharton or the College. I also recently joined Wharton Europe and just got accepted to the Undergraduate Sports Business Club as well. 
What constitutes a perfect day?
Son: Wake up in my bed in Prague, eat breakfast with my family when I was in second grade (back when we'd eat together as a family), go to French school to meet up with childhood friends at recess (French recess hits different). Then I'd play a varsity soccer game with my boarding school team. Obviously, we win the game and celebrate in the locker rooms. Afterwards, I'd go out to eat Asian food in Vietnam – I'd eat phở with my best friend from Shanghai. Then I'd chill with KC3 fam and later go out to a bar back in Prague.
Szilveszter: I'm currently in a transformation period. I'd wake up at 10 am (having slept in), have brunch at Hill with a friend, go to 1 or 2 classes (preferably LGST 207 and MGMT recitation), go to the Palestra, help the guys warm up, have a pasta pregame meal with them, beat Harvard by 30 points, get back and play FIFA in the dorm, and then go to bed at a reasonable time.
Where do you go on campus when you want to decompress? 
Son: McDonald's on Walnut. It's the best place to watch non-Penn people. Some intoxicated USciences super seniors once spilled sauce on my shoes. I've seen lots of fights. We've met a peculiar Uber Eats driver that we befriended over the course of last semester, and now we have an Instagram account dedicated to documenting these momentous occasions.
Szilveszter: I like GSRs, particularly when I put on a sports game in the background. Sometimes I ask friends to book for me so I get an 8 hour session going. It helps me get out of my daily routine and relax.
How have you changed since coming to Penn? 
Son: In the fall, I did a lot of activities because I heard that upperclassmen did them too/my friends applied to them. I was applying to clubs that I was not interested in. I felt like I was emulating others' interests, but I couldn't excel like they did because I lacked the motivation. I wish I had ventured out and explored my own interests. This semester I tried to pick my classes based on interest and actually like them a lot more. I also put in more effort into my clubs and feel genuinely happier. 
Szilveszter: My first day at Penn, I was certain I wanted to do investment banking. Now, I've figured out what a career means, and what I want from one. I've completely changed my values regarding work and the future. Last semester, I talked to a lot of juniors and seniors about investment banking, and there was one constant theme: it makes you a lot of money, but costs you a lot of time and energy. The tipping point was when a senior told me that at a company, they have beds so you can sleep there, instead of going home. That's just simply not worth it to me. Now, I want to work within the sports industry, be it by being in the front office for a club or investing in sports teams.
What are you doing this summer? 
Son: I am going to visit my grandparents in Vietnam. I am trying to get a finance internship in Kuwait and then I would take a business German course in Munich. 
Szilveszter: This is the first year my Hungarian soccer team (Ferencváros) has a chance of getting somewhere in the European league and winning the championship in Hungary. I'm part of the fan group(shoutout to the Green Monsters) that follows them everywhere, and I want to travel with them to all their games. We will be following the Hungarian national team for the European Championships as well – we just need to make it first. If there's an opportunity, I'll hopefully intern at the NBA Summer League for a couple weeks. In summary: A lot of sports and a lot of fun.
What are your career aspirations? 
Son: Film has shaped my life; now I want my life to shape film. Thanks to my CIMS101 class, I've realized I want to do something with cinema and mass media in the long run. I love documenting my experiences, editing videos, and creating entertainment for people. I've started seriously looking into this field, and reaching out to others at Penn to better understand how to immerse myself within it.
Szilveszter: I want to do something related to sports, be it investing in sports clubs through private equity or being a sports manager. Penn Basketball has shown me the strength of a sports community. The person responsible for all of Penn Basketball's logistics had a lucrative investment banking offer, but decided to stay with the team because they loved the culture. I would like to follow in these footsteps. 
What advice would you give to yourself a year from now? 
Son: Buy Tesla stock.
Szilveszter: Make sure you're not taking seven classes.
Huntsman to Huntsman Student Tip: 
Son: I'd get Writing Sem out of the early (with the easiest teacher, even if it's the most boring topic). With classes in general get the easy requirements out of the way and begin developing good study habits. Maintain a good GPA as it's a long road to recovery and a quick fall. However, minimize academic focus and prioritize out of school interests. I'd say that initally the social aspect of Penn is more challenging than academics. It's very different from what you've experienced so far. 
Szilveszter: Listen to Marco when he tells you that freshman fall is the easiest semester. Take advantage of this and emphasize things other than academics: friendships, clubs, interests. This is something you've likely never done before. If you're at Penn, academics are easy for you; it's everything else that's difficult.
We are looking for passionate writers! If you want to interview another fellow Huntsmanite or write an article for the Huntsman student blog reach out to any HSAB member or directly to marianav@wharton.upenn.edu.