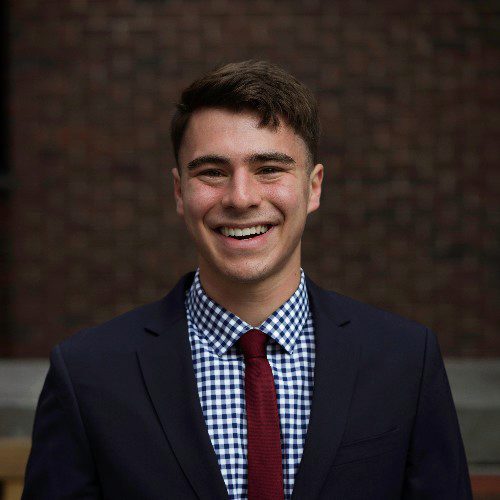 "Being in Huntsman has really pushed me to see how the world works from a much more macro level perspective. The world is not only about business nor is it only about government, so I am glad that I got to explore both."
Interview By: Mariana Velasco
The Basics:
Aiden is a senior targeting Chinese from right outside New Haven, Connecticut. Aiden almost moved to Hong Kong when he was seven; although it never happened, the idea to learn Chinese was since then planted in his head and he was among the only American students taking courses in Chinese at Peking University during his study abroad. Now he is pursuing a Business Economics and Public Policy concentration at Wharton, an additional Political Science major in the College, and is really passionate about international development and the intersection between government and business.
How are you involved around campus?
I am really involved in the International Affairs Association, I was in ILMUNC (Ivy League Model United Nations Conference) and briefly in Intercol. I then became part of the Academic Affairs branch and I am currently the head of ILMUNC China, and will be returning to Beijing to run a conference in November. Outside of IAA, I am on a branch of Penn Student Government, I am an inactive member of the club water polo team, and I am also involved in my fraternity.
How have you spent your past summers? ​
​First summer, I went to China to study Mandarin in an immersion program. And then, Sophomore Year, since I am interested in public policy, I worked on the Hill at the Office of Senator Tim Kaine and interned at a trade association doing a lot of interesting policy research on trade issues. Last summer, I worked at an aerospace and defense consulting firm to see how government and business intersect with each other. It was a good experience, but now I am focusing more on public sector consulting and fellowships. I hope to one day work either at or with international development organizations and businesses in emerging economies.
What is your senior thesis for Huntsman about and where did the idea come from?
My thesis is on Chinese urban development and the government and fiscal mechanisms that go into the planning of cities in China from a comparative perspective. The challenge of studying China is sometimes accessing data, so I am trying to keep it very high-level. The idea came from several things. First of all, the inspiration came from a few of my PSCI and BEPP courses, particularly Professor ́s Inman ́s BEPP230 class and Professor Sil and Jensen's PSCI116 and BEPP233 courses. Also, after being drawn to studying development by Professors Sil and Jensen, most of my courses in China were about China foreign affairs and China's approach to international development, so I intend for my thesis to factor in a Chinese perspective and nuance.