By Mariana Velasco
Farah is a recent graduate from the Class of 2021 targeting French from Cairo, Egypt. During her time at Penn she concentrated in Finance and Management in Wharton and minored in French in the College, and was also a Penn World Scholar. Farah studied abroad in Lyon during her sophomore year. On campus she was involved in the IAA: International Affairs Association (Intercol), the AgriBusiness Club and the Penn Egyptian Society. *The interview took place in May 2021.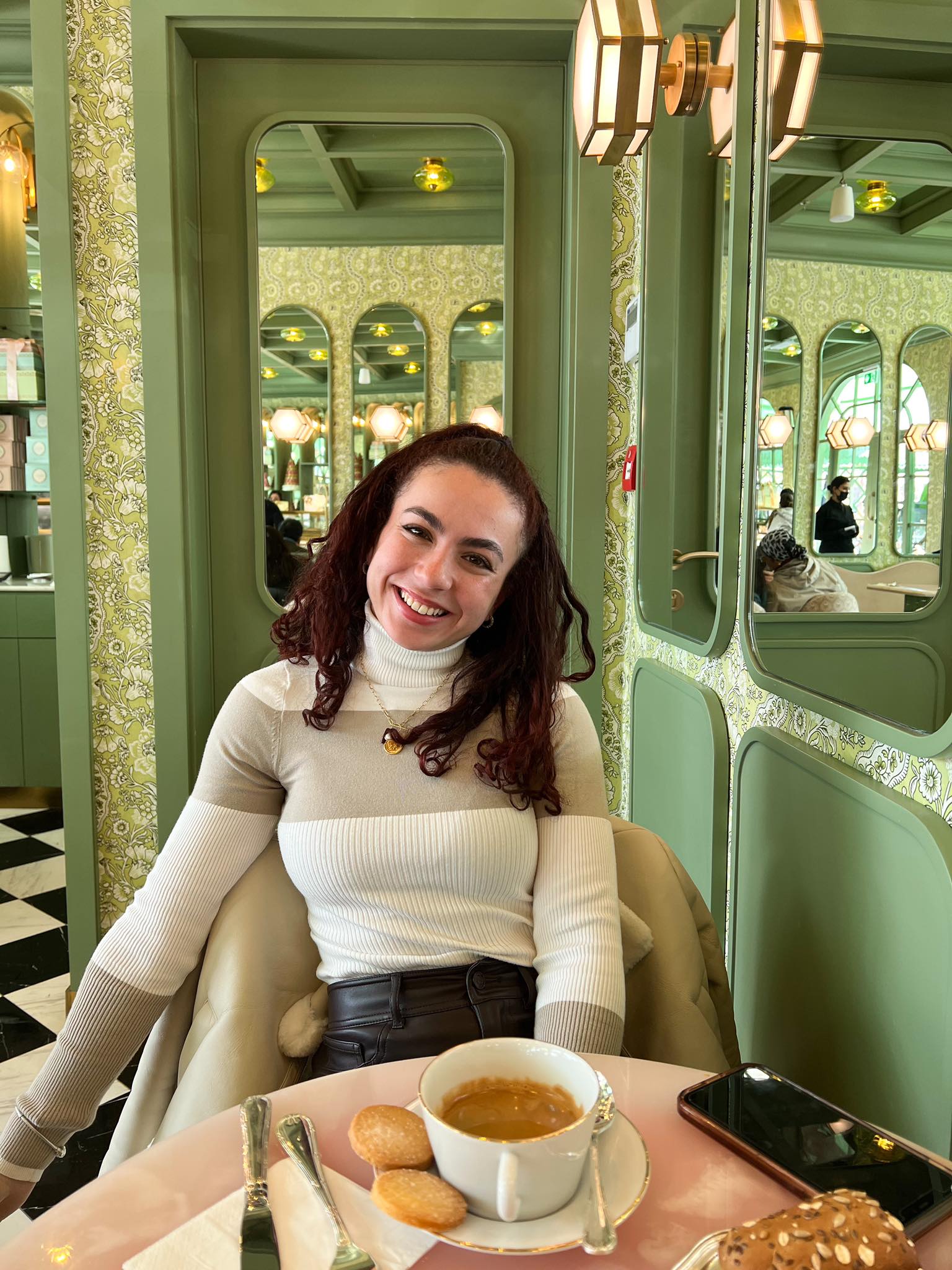 How do you feel about your Penn experience? I have honestly loved it. The main reason why I love Huntsman is the community – not only our class, but also upperclassmen and the younger classes as well. I got to connect with a lot of people from diverse backgrounds, ask them about their own experiences, recruiting, exploring Philly, and anything else you can think of. Building those long-lasting friendships has truly been amazing. The opportunities that I have gotten academically, professionally and socially here at Penn have just been incredible. I love having fun but also working really hard, and I think that is applicable to a lot of Penn students, so it is truly a great place to be. 
There are so many things to do here at Penn. How do you manage all of it? That is definitely true, there are so many things to do and they are all great opportunities – it can even get overwhelming at times. Personally, I have always been very academically focused and I tried to get involved with clubs early on to integrate that into my schedule. I always try to reserve at least half a day/a day during the weekend just to do something fun with friends because I think it is really easy to get wrapped up in the work mindset all of the time, which is not healthy. By managing my time through writing lists of what I have to do, exploring different activities I like to do and getting recommendations from friends, I've tried to make the most of my time at Penn.
Which new hobbies/ passions have you developed over the years? This one is not necessarily new, but I am really interested in fashion and I got to be a campus ambassador for Rent the Runway during my junior year. It was super fun for me to get involved in fashion from not only the styling side but also the corporate side. I have also started doing more outdoor activities like hiking around Philly because in Egypt I don't get to do that as much. French was also pretty new to me, and I am extremely happy that I chose French instead of Arabic as my target because I got an entire new language from my time in Huntsman. I am actually writing my thesis on the development and divergence of the fashion industry starting from its French origins. High fashion and couture originated in France, so I am really excited to connect my personal and academic interests in my thesis.
I want to dig deeper into fashion, when did that start? I started designing in 9th grade, and I would spend hours sketching clothes, mostly couture dresses. Or I would research my favourite designers and stay up to date with trends in the fashion industry. I really enjoyed thinking about style, mixing and matching pieces and different fabrics and silhouettes. I am actually taking a Fine Arts class this semester, so it has been really interesting to learn about proportions and drawing to improve my sketching and how my designs come across on paper. I would actually love to try and sew my first garment piece this summer. 
How would you define your style? I wouldn't say I conform to a single "style" – it's more a mix of everything I find interesting or eye-catching. I just see a piece that I like and try to incorporate it with the clothes I already have. I experiment with it in different ways to come up with more outfits. It is honestly more like I see something and I ask myself whether I can picture it as part of my wardrobe or in a specific outfit. I don't really consider what other people think about it, I just focus on what makes me feel good, and how it makes me feel overall. 
Going off of that, how have you crafted your experience at Penn, has it been a similar process? Well, going in so many things were very new to me – for instance, I had no idea what areas like Investment Banking were. I come from a family of doctors, so I was never exposed to it. I was interested in International Economics and Business at large, which is what brought me here, but I did a lot of exploring at the beginning. As I started taking the intro classes I slowly got introduced to Finance. I really enjoyed my Finance intro class and enjoyed the way we were thinking about topics and approaching problems — to me that was super interesting and struck a chord. I then interned in Investment Banking my sophomore year in Egypt and then at Blackstone with Strategic Partners for my junior summer. Similarly to my interest in fashion, I took different classes and explored different clubs and areas to build up my Penn experience and lead up to where I am today.
Tell me more about your study abroad in Lyon. I did my study abroad sophomore spring, and Lyon was honestly a critical part of my Penn experience. I really enjoyed my time there, and some of the other Penn students I met while studying there became my best friends. It was a very different lifestyle and pace, so it gave me the opportunity to step back and relax, which is not something that I do very often. I love constantly doing something all the time, but being abroad taught me a lot about taking a break and taking my time with everything I do, and I also got to practice my French at university, while traveling and just chatting with my host family. Also, the food in Lyon is incredible which was definitely a huge plus.  
We are looking for passionate writers! If you want to interview another fellow Huntsman student or write an article for the Huntsman student blog reach out to willoww@wharton.upenn.edu or marianav@wharton.upenn.edu