By Mariana Velasco
Gabriela is a current sophomore from Florida targeting Mandarin and concentrating in Finance. She is interested in East Asian Languages and Civilizations, as well as environmental policy and US-China relations.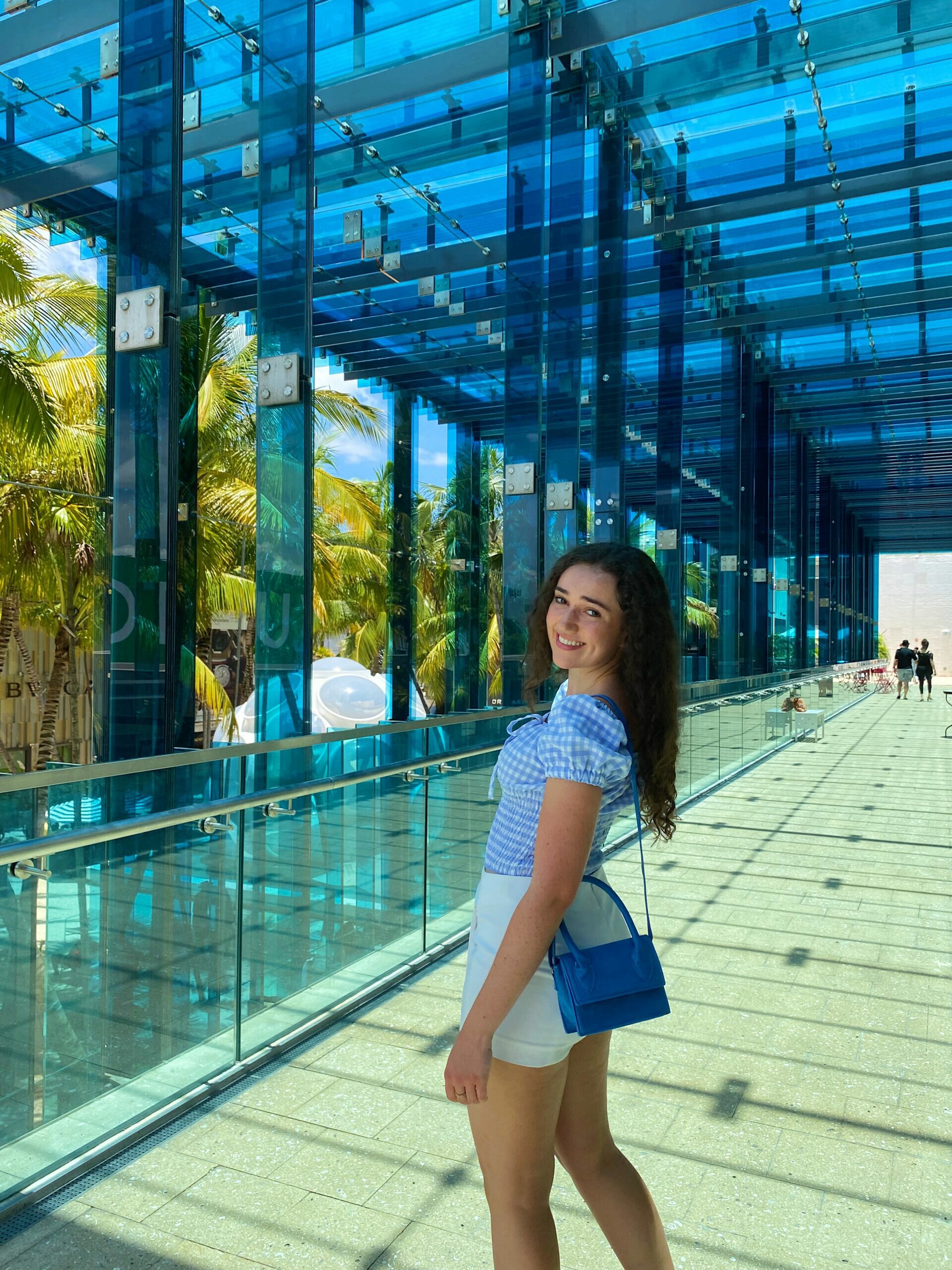 Do you remember your first interaction with Penn? My mom actually came to Wharton, so I grew up hearing about her experience and how these were the best years of her life. I had not visited personally until I reached out to a current Huntsman student from my school and came to visit as a prospective applicant in February of my junior year of high school. I remember that it was already dark outside, but there were a lot of beautiful lights everywhere. She brought me to the Huntsman Lounge and I sat down with her and her tight-knit group of Huntsman friends for a while, and it was a really nice experience to have. I kind of immediately knew I wanted to apply to Huntsman. 
Outside of studying and other Penn commitments, what do you like to do in your free time? Well, this semester has been a little bit different since I broke my ankle, but everyone has been incredibly supportive. Although everyone here is normally very busy with class and extracurriculars, I always make sure to spend time with friends. One of the things that I love doing is finding restaurants to try in Philadelphia, making reservations a few weeks in advance and then finding people to join me. It is a great way to enjoy a meal among friends and make sure I am striking a balance with everything else. 
Talking about balance, how do you balance your workload and interests at Penn? That is one of my favorite things about Huntsman — I have been able to combine my interests in business, diplomacy and environmental policy pretty seamlessly. For example, Wharton has a concentration in Business, Energy, Environment and Sustainability that I may pursue on top of finance. I am also involved in the Kleinman Center for Energy Policy at Penn. I am a very practical person, so I wanted to study something that I could immediately apply, which is where my interest in business and finance comes from. On the international side, I have been able to take classes that are very different from my business courses. I am looking forward to my study abroad in China next year. 
Did you know you wanted to pursue a career in finance before coming to Penn? Not at all. I definitely found out about my interest in finance when I came to Wharton, and even then, I would say, definitely not until sophomore year. Initially, I came to Penn with a very strong interest in diplomacy and US-China relations. I still have a very strong passion for International Affairs, and I am pursuing it by taking classes in the college out of pure intellectual curiosity, such as Media Chinese and my East Asian Diplomacy course. Luckily, these also fulfill my Huntsman requirements!
I forgot to ask one of the most important questions. Why Mandarin? Well, my family is from Puerto Rico and I grew up in Florida. I guess not the most traditional background for a Mandarin target, but I actually have been learning Mandarin since Pre-K. The headmistress of my school back home was visionary and expected China to become very relevant to the world and international business, so the school started teaching Mandarin to children. I then did a couple of exchange programs to Taiwan and China growing up and also hosted two Taiwanese students at home. 
You are part of the Huntsman student advisory board (HSAB). Tell me more about what you do. Yes, I joined last year and I really love being a representative for my class. I am mostly involved with freshman initiatives, so I organize events for Huntsman freshmen such as informal events to get to know upperclassmen in Huntsman, or panels to discuss research or career opportunities. 
Do you have any advice for prospective applicants? Yes, make sure that Huntsman is really what you truly want. Take into consideration that you will be taking more classes than a single-degree student. You may take six classes instead of four per semester. Huntsman also requires four semesters of language courses and a semester studying abroad. It may be easy to sign up for this as a high school student, but make sure that this is something that you really want because it does involve a little bit more work. It is absolutely worth it in my opinion, but that is an important thing to keep in mind. 
We are looking for passionate writers! If you want to interview another fellow Huntsman student or write an article for the Huntsman student blog reach out to willoww@wharton.upenn.edu or marianav@wharton.upenn.edu