Noah is a rising sophomore from Houston, Texas targeting Portuguese. Through a Huntsman Summer Funding Grant, he spent this summer in Austin, Texas as a ESG Strategy Intern.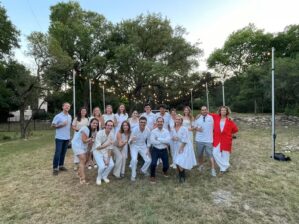 This summer has been absolutely fantastic for me, and I credit much of that to the opportunities made possible to me by the funds I received from the Huntsman Grant. This summer, I have been working in downtown Austin, Texas as an ESG Strategy Intern with Longevity Partners. Before sharing my experience, however, allow me to explain how I came into this position. Last spring, I enrolled in a course titled 'Political and Social Environment of the Multinational Firm: Aligning Stakeholder Analytics, Valuation & Strategy.' Throughout this course, which is taught by the now-president of the Wharton ESG Analytics Lab, I gained my first exposure to the ESG world, with a particular focus on social environments and corporate governance issues in international and multinational firms. As the course began to draw to a close, I reached out to my professor and expressed how much I had enjoyed the course, and told him that I was interested in continuing to learn about the space in a summer internship. Professor Henisz quickly referred me to a representative from Longevity, and, after a few rounds of interviews, I had the offer in my inbox two weeks later. With that aside, let's delve into exactly what it is that I've been doing this summer.
Longevity Partners is a leading global ESG consulting firm specializing s in real estate ESG strategy. Longevity has offices in four continents, including its domestic headquarters here in Austin, where I have been working in-person almost every day this summer. Over the course of my internship, I have had the opportunity to work on a variety of incredible projects, most notably as a consultant to the investment arm of Deutsche Bank – DWS – during a time when the firm found itself at the center of social and governmental crosshairs after the emergence of claims of widespread greenwashing in its environmental and ESG reporting. Here in Austin, the Longevity Office is composed of about thirty ESG professionals across all components of the ESG industry, ranging from broad social and governance strategy to environmental certification for real estate assets. Personally, with the DWS project being my primary focus, I have been working on a team of four – two senior consultants and one other intern. But what has made my time Longevity especially special are the people that I work with every day. Although Longevity certainly has a wealth of employees with decades of experience in the industry (with a few actually being current and former professors at the nearby University of Texas at Austin), many of my colleagues are actually recent college graduates themselves, creating a young, vibrant atmosphere in the office that is equal parts hardworking and lighthearted. 
Overall, this summer has been a perfect combination of work, learning, and fun, and I have tremendously enjoyed getting the opportunity to know and explore a city as young and as vibrant as Austin. Although I am very sad that my internship and my time in Austin are now drawing to a close, I am excited about the opportunities that lie ahead.