This summer, I spent a month in Nice, France taking intensive French classes and immersing myself in Nice's culture.
During my stay in Nice, I took DELF French language classes at the Education First (EF) campus in the heart of the city. The EF center was a melting pot of languages and cultures, having met people from Switzerland, Sweden, Spain, and Thailand, all sharing their opinions and personal experiences in classes through the French language. The unique thing about every class was the avid discussion around comparing each other's cultures on various topics as we built our French vocabulary and grammar. From discussing environmental sustainability in EF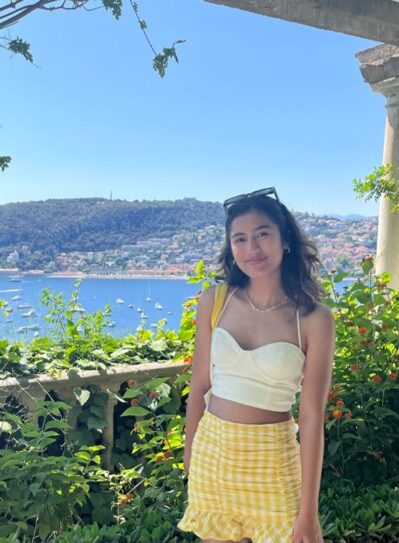 classes to learning about Nice's historical development, from our tour guides and extracurricular activities, I listened to and spoke French every single day.
After classes, I spent time exploring the food markets and bakeries in Vieux Nice (Old Nice) – trying everything from a Café Viennois to a Salade Niçoise. The local people in Nice were so friendly, taking the time to practice French with us and teach us new words as we ordered food and navigated the city. We also interacted with EF staff only in French as we visited landmarks in the city and signed up for activities. It was so interesting to hold these conversations and learn about their background and experiences growing up there.
The best part of the trip was being able to spend it with some of my Huntsman classmates. We explored nearby cities together – from the Fragonard factories in Eze and local food markets in Antibes to the museums and markets in Old Nice. I enjoyed spending time with them and getting to know them even better.
Having grown up in Hyderabad, India, I never had the opportunity to live for an extended period in a French-speaking country. I'm grateful to the Huntsman Program for the resources and support in seeking out this opportunity. This experience really allowed me to pick up the nuances of French culture and improve my comprehension of spoken French. This semester I am planning to take FREN 1214: Advanced French Composition and Conversation, and I am excited to come in with more perspective and practice!
This memorable trip definitely helped me better understand and connect with people from France, a helpful skill for future academic and professional endeavors. I'm looking forward to more culturally rich experiences during my time at Penn and exchanging stories with other Huntsman classmates about their summers as well.