By: Alejandra Soria Andrade
From having my luggage lost by the airport to gaining more independence than I have ever had, I can say that this summer has unquestionably been a life-changing experience that has marked the rhythm of how I want to do things not only in the present, but also in the future. My summer began with a two-week adventure in New York, where I attended several networking events related to the real estate industry. These events not only helped me gain an understanding of the intricacies of this industry, but also a better understanding of my own interests such as developing my skills in a dynamic environment. After running up and down New York City, getting lost in the subway, and meeting a lot of people, my adventure moved to a more western location: Portugal.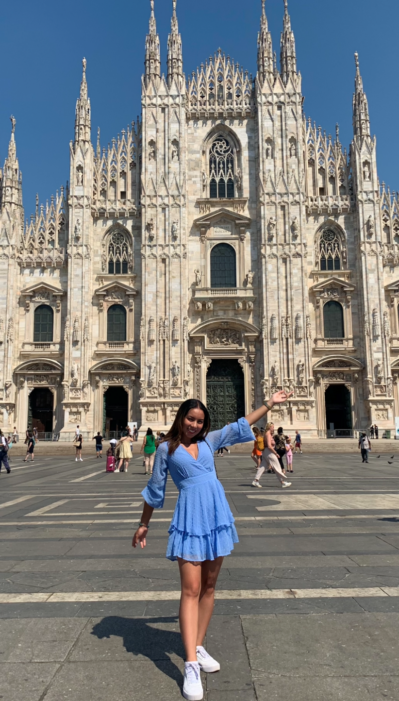 Once in Lisbon, I took intensive summer classes at the Universidade Nova de Lisboa, including Advanced Portuguese and Business Ethics and Leadership, where I had the opportunity to improve my understanding of a more global environment. Through extensive travel in Portugal with adventures abound, I visited around 12 cities within Portugal by myself, including Sintra, Lagos, Manteigas, Covilha, and many more. Furthermore, after nearly a month in Portugal, my journey took a turn and I began a remote apprenticeship as a Skyline Scholar at Hines, a privately held global real estate investment firm. As a result, this journey sparked my interest in commercial real estate and how it can have a broad impact on the world.
Finally, my hectic summer adventure came to an end as a management accounting summer intern at TFL Ecuador in Guayaquil, where I was able to work on independent projects, manage the company's portfolio of prospective clients and international contracts, and interpret data to evaluate the efficiency of financial procedures within the firm.
Every experience this summer has made me consider what could be done to have a genuine impact on our communities while also pursuing my passions. Therefore, I'd like to thank the Huntsman program's generosity, as well as its alumni and faculty, for their willingness to support the best interests of its students. As an outcome of this, I was able to have such a transformative involvement that piqued my curiosity in what I love with a solivagant and enlightening summer.