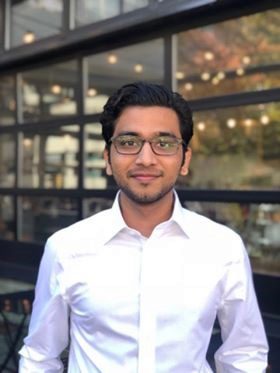 There are some intricacies that you can only really see if you completely immerse yourself in local cultures – however that may be. The Huntsman Program is really good at encouraging that full immersion; not a lot of programs require you to study abroad for a semester to graduate or facilitate living with classmates from all across the world"
Interview By: Mariana Velasco
The Basics:
Raj is a junior from New Jersey targeting Hindi. Sustainability is a big part of his life; growing up he was exposed to the recycling industry due to his family's business, which instilled in him the value of appreciating different cultures in the business world. He is pursuing Finance and Management concentrations at Wharton and spent his freshman summer pursuing research on sustainability in Mumbai, India through Wharton GRIP.
What was your research on?
My research was on the plastic bag ban that the city of Mumbai implemented that year. I arrived in June when the ban was implemented, so I got to study the ban before, during, and after its implementation. Most notably, we studied environmental policy of different Indian states and actually surveyed people from all different groups along the plastic supply chain – factory producers, mall owners, local merchants, and even government officials from Mumbai.
Where do you think this problem stems from? ​
India actually produces less waste on a per capita basis than the US, and a lot of that has to do with our culture here in America. In a lot of ways, the recycling process could be so much more efficient and impactful. Recycling is very archaic, not a lot of progress has been made in the industry for a long time. Most of what we put in recycling bins will not be ultimately recycled because of the rain, or simply because what we put in should not go in there in the first place. Landfill costs also play an important role in recycling; if there is a lot of cheap land available there is less incentive to recycle. Also, we need to think about material science, how can we come up with alternatives to plastic or other things that are better for the waste industry to handle in the long-term. Ultimately, I believe that the biggest impact will come from government regulation.
How have you been able to reconcile your passion for sustainability with business?
I spent my sophomore summer at Closed Loop Partners, a Private Equity fund based in New York City that specifically invests in companies that promote circular economy in the US. It was the best way for me to combine what I had learned from Wharton and my passion for sustainability. If any students (especially sophomores) are interested in both finance and sustainability, feel free to reach out to me!
What do you do outside of academics?
Wharton Leadership Ventures. It is a phenomenal way to get exposure to and practice leadership outside of the classroom. The program runs both one-day intensives throughout the semesters as well as one-week expeditions to Antarctica, Patagonia, Utah, and the Caribbean. I have also done a bit of backpacking so far. I backpacked from East to West across China, south of the Himalayas in India, and gone on a canoeing trip in Canada. Spending time outdoors is a great way to refresh the mind from your busy lifestyle and to build perspective.
Huntsman to Huntsman Student Tip
I really would encourage people to spend their sophomore summer to do something that is really interesting to you!