By Couloir X. Hanson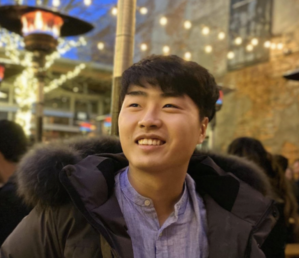 The search for identity has characterized my life, as well as my time in Huntsman. Being Korean, I've long been preoccupied with the question of reuniting North and South Korea. Constantly moving around while growing up allowed me to pick and choose different cultural traits. After having explored romanticized ideas of the world, I want to explore the mundane, to discover the human condition.
The Basics: ​Hoonie is a current senior concentrating in Finance and targeting/minoring in German. He was born in South Korea, and migrated through St. Louis, Korea, Prague, and Virginia before coming to Penn. After freshman year, Hoonie left to serve in the Korean army for two years.
What was your favorite travel experience? ​
While abroad, ​I went hiking in the Swiss Alps with Mark Bajtay (Huntsman '19) and Markus Paakkonen, a Finnish exchange student. We rented out our hiking equipment and mostly eye-balled our journey, which ended up being ridiculously steep and physically challenging. I loved it because we were surrounded by nature, with no electricity, just camping outside or in huts. The fact that stepping on the right rock for footing was a matter of life and death put many things in perspective. When I visited Mark in Portland, he showed me the three bunnies living in his backyard becoming anxious by their instinctive reactions: when a crow flew overhead, they would hide, even though they had no reason to think the crows posed any danger; they would gather objects in their mouths without realizing it. Likewise, Mark thought that evolutionarily speaking, we're still cavemen. When we don't understand our underlying condition and don't follow our instincts, we will feel anxious, just like Mark's bunnies. Living in urban society can do that to you. When we were hiking though we didn't have to be conscious, merely instinctive. I literally saw the world differently: it was brighter.
Are there any particular values by which you attempt to live your life? ​
I believe values should be generalizable across different contexts. It seems to me we're born in this geography and timeline by random chance; we could just as easily have been farmers in Mesopotamia or soldiers during World War II. Living in the 21s​ t century gives us more opportunities to be content with our lives, given the technology that surrounds us. However, what leads to a meaningful life has always remained the same: family and friends, laughing and loving. This should not be a goal, but a consistent day-to-day intention. It's easy to lose track of this, as I did Freshman year, whether at Penn or elsewhere.
How did spending time away from Penn influence you? ​
I left Penn twice: to serve in the Korean army and to study abroad in Frankfurt sophomore spring. Serving in a US Infantry unit in Korea, I found myself living with vastly different people than those I found at Penn, namely that they had different ambitions and had served in combat deployments to Afghanistan or Iraq. As different as we were, we were all friends who trained and sweat together. I always liked asking them about their stories, to better understand their experiences and thought process. Spending this time away from Penn allowed me to learn more about myself and the world in the context of the different types of people I came to know and love.
As for study abroad, people often think of Frankfurt as boring, and they're right. I love that though. Having lived in Prague in middle school, I thought I had already understood the European vibe. I was well familiar with the more romanticized aspects of Europe, and wanted to see more of everyday life: biking around, drinking beer, and just going to work or school like any other native there, and not a tourist, all while speaking German. I loved that there was not much that could distract from the mundane, in contrast to Penn.
Favorite class?
​GRMN324 taught by Andree Hahmann, who is unfortunately returning to Germany after this semester. The class is about the confluence of Naziism and philosophy: discussing early 20t​ h century philosophers who contributed to the rise of Naziism and/or defended its ascent or key actors. I find the questions raised in the class fascinating: do good and bad exist? what is dangerous? what leads to actual or philosophical power? Can we separate philosophy from history? (for example, Heidegger's personal notes are anti-Semitic, but his philosophical notes are not.) I really appreciate Hahmann's detached view; he puts ideas into perspective by looking at individual arguments. Additionally there's an older gentleman named Robert, who met Hannah Arendt when in a graduate program at Columbia, so we're at three degrees of separation from the philosophers we are discussing in class.
What are the most meaningful experiences you've had at Penn?
​All my most meaningful experiences have been random. I got to meet my girlfriend just by virtue of being in Huntsman and hanging out in the lounge a lot. I joined my band, Kapacity, because my house's laundry machine wasn't working. One of my Korean friends had wanted me to join Kapacity for a while, but I had always brushed it off. Then, one day, my laundry machine stopped working, and I asked this friend if I could use his laundry machine. He invited me over at a specific time, when Kapacity was hanging out at his place, and I was persuaded to join the band for which I am now the Band Leader. These relationships matter, even if they may seem random at first.
Where do you go on campus when you need time for yourself?
When you walk out of Fisher Fine Arts, to your left, there's a tiny garden area with three benches, surrounded by trees so you can't see it if you're walking past it. It's a really nice, quiet, and often private space to just be when you need some time alone.
What advice would you give your freshman self? ​
Do your best where you are. You don't have to be excellent at everything, especially since you don't even know if you'll like it yet. Don't give up on anything either though, because everything is worth learning about. You may actually learn more useful things about yourself by trying it out. Whatever you do, don't let your expectation of things outrun you. My "Why Huntsman" essay talked about how being part of Huntsman as a German Target could help me understand a potential Korean reunification in the context of German reunification in 1990. To get even close to explaining this topic would require at least 15 PhD theses: so a rather impossible expectation.
Life is all about positioning yourself as best as you possibly can at that moment, because there's no way to know any better. Anything can happen, so go with the flow, with a general goal in mind, and don't be too bummed things don't work out as you hoped. At Penn, nothing really went exactly as planned, but what ended up happening was sometimes even better than my plans.
I've known a lot of people in Huntsman, from the classes of 2015 through 2023, and there is a wide variety of personalities, ranging from people who think they will eventually conquer the world to people who are just happy to be part of the world, from people who are hard-core into finance to people who want to save the world working for a non-profit in a random place you've never heard of before. Take comfort in the fact that you will most probably fit somewhere in between these two extremes, so you will always be at home. Huntsman is a place where there's a wide variety of spectrums, where you can make many friendships and relationships.
We are looking for passionate writers! If you want to interview another fellow Huntsmanite or write an article for the Huntsman student blog reach out to any HSAB member or directly to marianav@wharton.upenn.edu.