By Mariana Velasco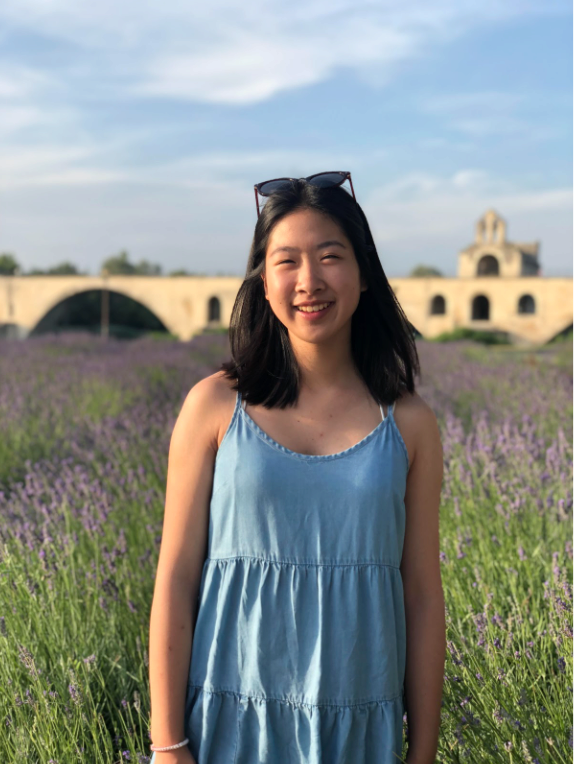 Tell me about yourself. My name is Kelly, and I am a sophomore targeting French. I'm from Cupertino, California, and I've lived there my whole life. It's in the heart of the Silicon Valley, and growing up, I definitely feel like I was pushed in the direction of CIS (could have been M&T!), but I really wasn't good at it. The reason I am at Penn is because I was really drawn to who the typical Penn student is. I remember being so enamored during my campus tour because the tour guide was just so charismatic.
Penn students are collaborative and willing to help each other out, and I have to say that Penn's reputation made me a little skeptical about that, but it's certainly true (and all the more so for Huntsman students). At the end of the day, it was really important to me to go to a school where the people were friendly and willing to get to know me and eager to become friends. Being in this sort of environment has made my college experience so incredibly fun and worthwhile, and I could not imagine being anywhere else.  
What do you expect from Huntsman/college for the next two years?
I feel like what is to come is fairly predictable in that I can clearly see what I'll be spending my time doing in the next two years or even five years. But at the same time, what really excites me is the day to day stuff, and those sort of moments I can't predict. They don't even have to be completely new experiences, but spending time with people in ways that I don't anticipate and building new relationships with people just brings me so much joy. I also think that there is a lot of room for intellectual growth in my remaining years of college. During my gap semester in Fall of 2020, I really missed learning in a classroom environment. I was reading a lot, but I missed the conversation and the dialogue that happens in class settings. That yearning for learning in the classroom definitely changed the way I think about what classes are important for me to take while I'm in college.
What is your favorite class at the moment?
This semester, I'm taking this Religious Studies class as an elective. It doesn't count for any requirements, but every time this class meets, I'm just blown  away. We meet for three hours every Monday and talk and share our thoughts and challenge each other and push the discussion in different directions. One of the prompts for our breakout rooms last class was to discuss a quotation that we had written down. We literally spent thirty minutes discussing three sentences in our breakout rooms, and it was so cool to see where the conversation went and how it evolved. It's hard to concretely describe the class, but to use the course title, it's essentially about the theory and praxis and thinking at the intersection of Religion, Social Justice, and Urban Development. I actually found out about the class because it was on the Huntsman course recommendation list. This semester, I am also taking Accounting, Finance, Marketing, Math, and a French class entitled Paris in Film. 
What extracurricular activities are you involved in?
I'm in HSAB: the Huntsman Student Advisory Board. I am also involved in PIIC: Penn International Impact Consulting. Our team is super lucky because we found an NGO in Thailand that we can truly create value for through our work. They're working on their biochar initiative at the same time as we are working on our deliverables regarding that project, so it has been an incredibly rewarding experience working alongside them and seeing the way our work informs their decisions and changes their trajectory. Another club I've been involved in since the start of college is Penn for Youth Debate. Debate was such an important part of my high school experience, so I really wanted to give back to the debate community by volunteering at schools in West Philadelphia. Beyond volunteering at debate practices on a weekly basis, we also host the Penn Speech and Debate tournament every year. We usually bring a thousand students to campus to compete, and it's crazy because a team of around ten Penn students runs the whole thing. It is a lot of work, but it is so gratifying to be a part of it and to play a role in something that big. 
How do you manage to have so many things going on at the same time?
I think they are all just so important to me: Huntsman, PIIC, and debate. I live a pretty meticulously organized life. To be honest, sometimes it's a little lacking in spontaneity, but that just makes the moments that are spontaneous and adventurous all the more special and exciting. I guess it comes down to knowing exactly how much time each thing requires of me and being passionate enough to dedicate the time to it. I think that probably reflects the Huntsman curriculum as well because it's all about striking a balance between the different parts of the curriculum and finding the classes that really get us excited.
We are looking for passionate writers! If you want to interview another fellow Huntsman student or write an article for the Huntsman student blog reach out to marianav@wharton.upenn.edu.