By Mariana Velasco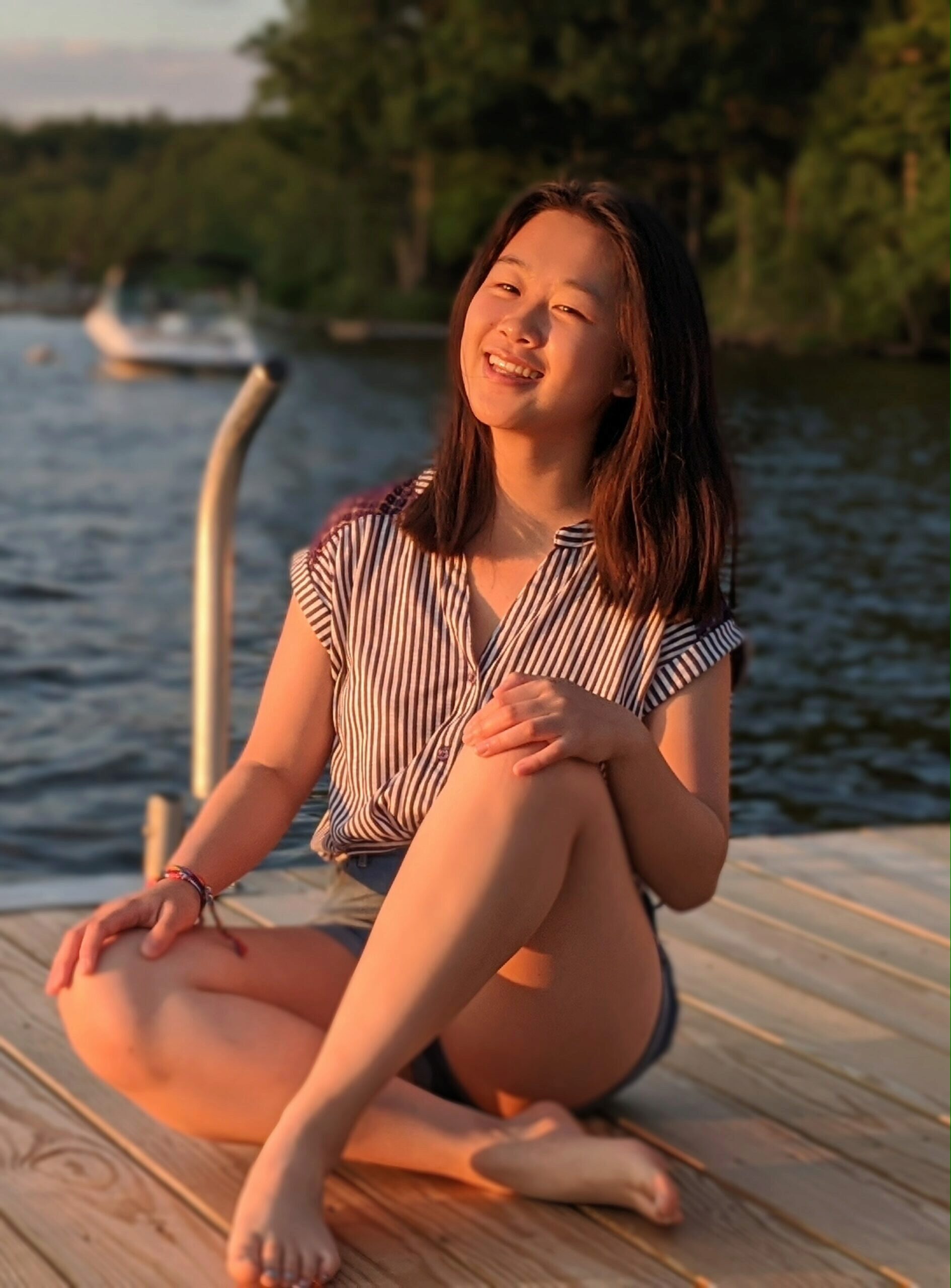 Who is Angela? What are some words that describe you? I am a freshman from the Philly suburbs – which is also where I am staying during the semester – and I am targeting Mandarin. I'm very creative, and I have an artistic side – I especially love to write. I enjoy asking questions and learning more about other people and really building and developing my relationships. Some words that come to mind: strategic, compassionate, communicative, a learner. 
Why Mandarin? My parents originally emigrated from China, so I grew up speaking Mandarin at home. I learned more advanced grammar and vocabulary through Chinese school, which was mostly run by volunteers in the Chinese American community who wanted to ensure that younger generations remain connected to their Chinese language and heritage. I chose Mandarin as my target language in Huntsman for a couple of reasons. First, I wanted to improve my language skills so I could better communicate with my extended family in China. I also love taking the opportunity to explore the diverse cultures and traditions among Chinese-speakers. Finally, looking at current events, it really feels like the perfect time to be studying China as China takes a more significant role in global affairs.
What do you expect from Huntsman at this point in time? I really think that the essence of Huntsman is its community. Even though I haven't had the chance to be on campus and meet everybody in-person, I do feel that the Huntsman community has allowed me to connect with more freshmen and upperclassmen. Everyone I've met so far has been incredibly passionate, intelligent, and engaged. Thanks in part to the great online programming that Huntsman and HSAB have organized, I feel like I've already met people in Huntsman who will become my lifelong friends.
What drew you to Huntsman? My dad was the one who first told me about Huntsman. I started looking into the program, and immediately fell in love. Everything about Huntsman seemed to align perfectly with my core beliefs and values – that fundamental Huntsman thesis of exploring how global issues and business intersect, and highlighting the needs of local communities. The summer before my senior year in high school, I did this program at the University of Pittsburgh that combined the study of global issues and language. I really loved that program; it made me think more critically about all of these international issues like sustainability, migration, and commodity supply chains … I knew that Huntsman was the perfect place for me to continue to pursue those ideas and seek solutions to global problems. 
What's a global issue that you are passionate about? Depends how you define 'favorite.' It's hard to choose, but one global issue that I think is incredibly important is sustainability and the environment. When you really investigate climate change and its effects, you quickly realize that it interacts with truly everything – military conflicts, healthcare, agriculture, diplomacy – and it has the potential to profoundly magnify and exacerbate pre-existing inequalities. There's so much more work to be done on a local, national, and international level for sustainability. I would know – I recently competed in Penn's Sustainability Challenge, and I've been looking for more ways to explore this particular passion at Penn. 
What are you involved in on campus? I am a writer for the Ego section of 34th Street Magazine, and it's given me the fascinating opportunity to talk to so many thoughtful, talented members of the Penn community. I'm also a member of Wharton Global Research and Consulting (GRC), where I've worked alongside some really remarkable people to help inspiring non-profits achieve their goals. I'm also part of Bridges to Wealth, a program run by Penn's Netter Center. The program aims to expand financial opportunities for students in West Philadelphia. Part of that is increasing college access, so I work as a mentor for one or two high schoolers who are maybe the first in their family to attend college, and I guide them through the whole complicated process of college applications. The other part of the program involves teaching local high schoolers about entrepreneurship, and as a project leader, my job is to help those students develop their ideas into viable projects. 
What were your main interests when you were in high school? I was kind of the classic Huntsman kid – I did Model UN, debate, mock trial. They were all enjoyable, and I made some very good friends through those three activities. Debate and Model UN, in particular, really helped me to develop robust research skills and a better understanding of social issues and international affairs, which prepared me perfectly for Huntsman.
We are a dual-degree program. As of now, do you see yourself more on the business or the international studies side of things? Currently, I lean a little bit more towards the international side, but I think part of that comes from the fact that I didn't have a lot of exposure to business in high school. I'm sure that as I take more business classes at Penn, my perspective might change. Also, it's a bit of a trick question, right, because you can't separate business from its international context – that's the whole point of Huntsman!
You could have studied only International Studies. Why business? My interest in business started fairly recently, probably in my junior or senior year of high school. I didn't have any particular flash of insight where I decided I love business; I'm just someone who really values and seeks out real-world impact (which is very quintessentially Wharton) and my passion for business grew naturally from that desire for social impact. I believe that if you truly want to start changing the systems in the status quo, business might be the most effective way to go about it. Also, in the end, business skills are necessary no matter where you end up – government, NGOs, the private sector – because you have to keep things running smoothly to reach your intended goals. 
Tell us something about you that nobody knows about. Right now? My height! One of the blessings or curses of only meeting people through virtual settings, I guess.
We are looking for passionate writers! If you want to interview another fellow Huntsman student or write an article for the Huntsman student blog reach out to marianav@wharton.upenn.edu.