By Angela Shen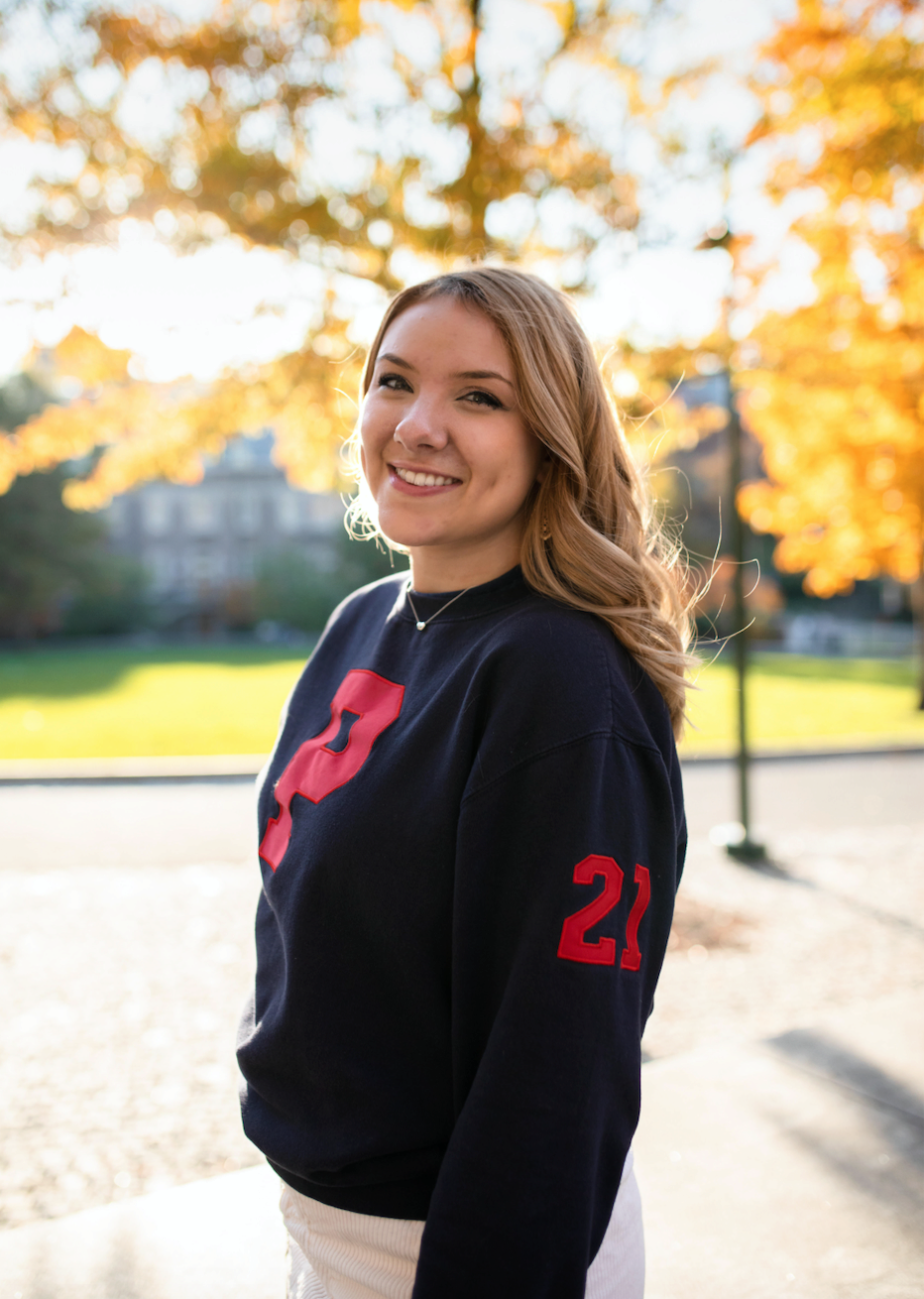 Tell me a bit about yourself. I'm Becca, I'm originally from Arlington, Virginia. I'm a senior in Huntsman targeting Spanish. I'm also minoring in Spanish and Urban Studies and concentrating in Management and Social Impact. 
Why minor in Spanish and Urban Studies? It was an interesting road to get here. With Spanish, I had an amazing experience abroad in Buenos Aires, and that's really what cinched the minor for me. I've especially enjoyed classes focusing on Latin America, such as Urban Life in Contemporary Latin American Literature and Birthing Themselves: Black Women Writers in Latin America and the Caribbean. Urban Studies is a little bit more of a surprise I'd say as far as Huntsman interests go. Penn has a lot of great classes in Urban Studies, especially ones examining Philly as a case study. Urban Studies touches upon so many issues and disciplines, from history to economics to planning. I'm also doing fieldwork senior spring with Connect the Dots, a Philly-based organization working on stakeholder engagement and analysis. 
Why concentrate in Management and Social Impact? I gravitated towards Management classes, like Organizational Behavior (MGMT 238) with Adam Grant — It teaches concepts really applicable to your life and your career, like giving feedback and how to understand your personality better. A lot of my management classes combine theory and real-world experiences to form a very genuine, interactive experience. Management also has a lot of interesting half credits, so I've also gotten to explore entrepreneurship, diversity and inclusion, managing disruption, and AI. Bridging to my social impact concentration, Knowledge for Social Impact (MGMT 241) with Katherine Kleinwas phenomenal as well as Nonprofit Economics (BEPP 214). 
What drew you to Huntsman? I was very excited about the opportunity to go to an incredible school where I could dip my toes into different areas while gaining different analytical skills. Huntsman goes beyond really immersing yourself in spreadsheets and models for four years  – you also immerse yourself studying abroad and through meaningful cultural experiences. The language component was especially exciting for me – I started studying Spanish in kindergarten at an immersion school and Mandarin in 7th grade. Philly was also a draw – I wanted to learn about its history and engage in the lively city environment. 
What's a global issue that you are passionate about? Gender equality has been an interest of mine since high school when I did a lot of work on that as part of the Girl Up initiative. From there, I've started to think about diversity and inclusion more broadly, including through clubs here at Penn. The intersection of cities and economic opportunities is also fascinating. 
Describe your experience abroad. Sophomore spring, I went to Buenos Aires. I really wanted to study in Latin America because I'm fascinated by the region's history. Buenos Aires itself is a complex and lovely city, filled with food and culture and sophisticated people. I lived with a host mom named Mercedes, a 70-year-old widow, who I got to eat dinner with and talk to every night. I got to hear about her life growing up in Buenos Aires. I also made really great friends through my classes and got to travel to other parts of South America. My classes were an amazing chance to read and learn about Argentina, an interesting break from my semester at Penn. 
What are you involved in on campus? I'm a TA for WH201, which is a communication course that's the second step of the Leadership Journey. I also have been an advisor helping people with public speaking projects since sophomore year. My other main commitment has been the club I started at the beginning of sophomore year, called Diversity and Inclusion Strategic Consulting (DISC). We do different projects with organizations developing diversity and strategic initiatives to make them more inclusive places in general. 
What's a philosophy that you live by? I would say openness to experience. I'm always wanting to explore, and see new things, and be exposed to new perspectives. Beyond having new experiences, I really value connections to other people. 
What are some of your goals for the future? Long term, I'd like to continue working in the social impact space. I'm not sure if that's through a social enterprise, or a foundation, or impact investing — but I see myself generally at smaller organizations. Short-term, I'm planning to work in management consulting with a focus on social impact. I feel most like myself when I'm working with ideas, data, and people. I like being challenged and making things better.
We are looking for passionate writers! If you want to interview another fellow Huntsman student or write an article for the Huntsman student blog reach out to marianav@wharton.upenn.edu.