By Willow Wilkes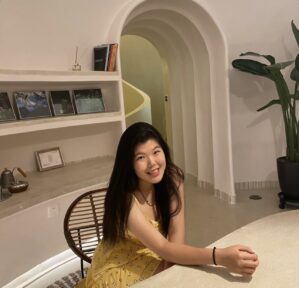 Tell me about yourself.  
My name is Ziyan Wu, and I'm a Chinese international student from Hangzhou, which is a city close to Shanghai.  My target language is German and my potential Wharton concentration is Finance.
What drew you to the Huntsman program?  
I really love the international focus of the Huntsman program, and I thought that my cultural background is quite diverse, since I'm a Chinese student who came to the US for four years in high school.  I've also studied German for three years, and Germany is another country that I'm really interested in.  I thought that Huntsman was the perfect mix for me to continue to study German, as well as other languages and business. 
How has your freshman year experience been?  
Honestly, it's been a little bit different to what I expected.  I got accepted during Early Decision, and I was so excited to live on campus with everyone in Huntsman.  But due to the craziness of COVID, I wasn't able to make it to KCECH this year.  That was a bit sad for me, but apart from that, it's still been a pretty good year academically.  I'm so excited to see everyone in-person for sophomore year.  
What have been your favorite classes so far?
My favorite class from freshman fall was probably LGST 100.  There was a lot of discussion and it was a really fun class.  It was really cool to hear other students' voices and perspectives.  The professor was also really open and considerate for students based internationally.  
For freshman spring, I found OIDD 101 really helpful – I feel like I learned a lot about how businesses operate.  Professor Song is also one of my favorite professors so far.  
How has it been interacting with the Penn community?
Being a part of Huntsman has definitely helped me with advising.  Marco and Kelly were so helpful in guiding me to pick classes and to see what best fit into my schedule.  
I was also able to talk with my Chinese peers from Penn who were still located in China.  We had study groups, brunch dates (pretty much every other day!), and some of us lived together in Shanghai for the spring semester.  
What clubs have you been involved in?
I was involved in PAIR – it's not just for Penn students, but all Chinese students from colleges like Columbia, UChicago, UPenn, and a bunch of other places.  We do lots of hardcore finance stuff.  I did a pitch with PEER last semester which was really eye-opening for me, since I had never really been exposed to finance or stock pitches before.  
During the spring semester, I also joined Wharton Council, which is one of my favorite clubs.  It allowed me to talk with the Dean and really gave me the sense of a college experience.  We also had a mission to talk to every upperclassmen member of the club, which I loved.  It really pushed me out of my comfort zone and made me more virtually present.  It was good to know that I could contribute, even from China. 
What do you hope to gain from your next three years at Penn and the Huntsman program?  
First, definitely friendship.  I'm looking forward to building friendships and talking with Huntsman peers, both in my grade and in the grades above and below.  The program is full of amazing people with different backgrounds and perspectives.  
Second, I want to try doing different things.  Even though I plan to do finance as my concentration, I'm also interested in learning about legal studies and healthcare.  
Also, I'm doing a research project with the ASAM community, and my focus is on healthcare and pension systems in China.  That's something I find really interesting and would like to explore more.  
But more than anything, I just want to have good memories to look back on.  
Tell me about your toilet paper project.  
My project with toilet paper was my biggest project during high school, and I worked on it for the whole four years.  My freshman summer, I came back to China with some of my best friends from my American high school, and it was really fun to show them around Hangzhou.  
One of my friends complained to me that there was no toilet paper in public restrooms.  It's weird to say for American people, but it's totally normal in China, and was something I had never noticed.  I decided to take initiative, since I think toilet paper is a necessity and people should have the right to access it in public bathrooms.  
I started doing research on the toilet paper situation in my hometown, Hangzhou – I interviewed people on the street and gave out questionnaires.  I came up with several solutions, including having a face scanning machine attached to bathrooms, which allows access to toilet paper once every ten minutes to avoid theft.  
Later on, we also started looking into the solution of PPP – a public-private partnership.  I started advocating for PPP, and during my senior year, I wrote a big research paper comparing PPP in different countries, namely Germany, China, and America, to compare the systems.  That was one of the biggest reasons that I started learning German in my sophomore year, since I saw that PPP was really big there.  
We are looking for passionate writers! If you want to interview another fellow Huntsman student or write an article for the Huntsman student blog reach out to willoww@wharton.upenn.edu.