Samidha Sane
February 29, 2020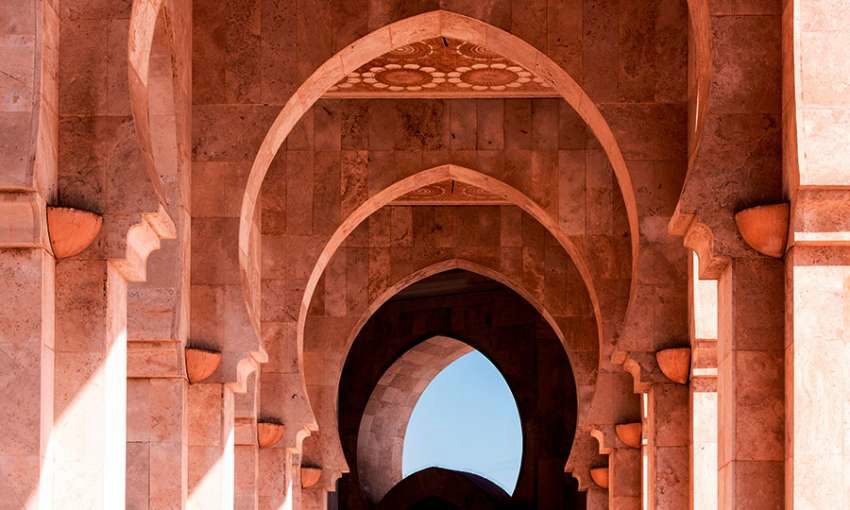 Hassan II Mosque in Casablanca Morocco. Getty Images.
CASABLANCA—Ibtissam remembers the laughter, the music, the henna-stained hands of the women lined up to welcome a newlywed couple in her neighbor's home in Safi, a city in Western Morocco: "It felt like a party."
The negafa, a woman who attends to a bride's needs during a wedding, announced the bride and groom's arrival into the home—leading the couple into a small bedroom. Soon after, the mother of the bride knocked and entered the bedroom, then paraded out a blood-stained bed sheet. The house burst into a celebration of the new bride's newly lost virginity.
While the tradition of examining the bed sheet of a newly married couple for blood is mostly concentrated in rural Morocco, the phenomenon of virginity testing is not exclusive to her hometown of Safi, Ibtissam says. The practice transcends region and social class, permeating almost every aspect of Moroccan society. And it often includes physical exams conducted by health professionals who deliver virginity certificates—evidence of a woman's intact hymen.
Soumaya Guessous, a sociologist and gender scholar at University Hassan II in Casablanca, confirms that the practice of testing for virginity is not limited to a specific socioeconomic strata or region. Medical practitioners all across the country give out virginity certificates, through the practice is concentrated in rural areas as well as more marginalized regions within urban cities. In fact, Imane Hatim, MD, one of the few gynecologists in Casablanca who admits to issuing certificates, points out these disparities within Casablanca, Morocco's largest metropolitan city. She notes that while it is rare for a patient to request a virginity test at her clinic—Clinique Al Massira—located in a wealthier part of town, it is much more common at her private practice in the "quartier populaire," which she describes as a more conservative, working-class neighborhood.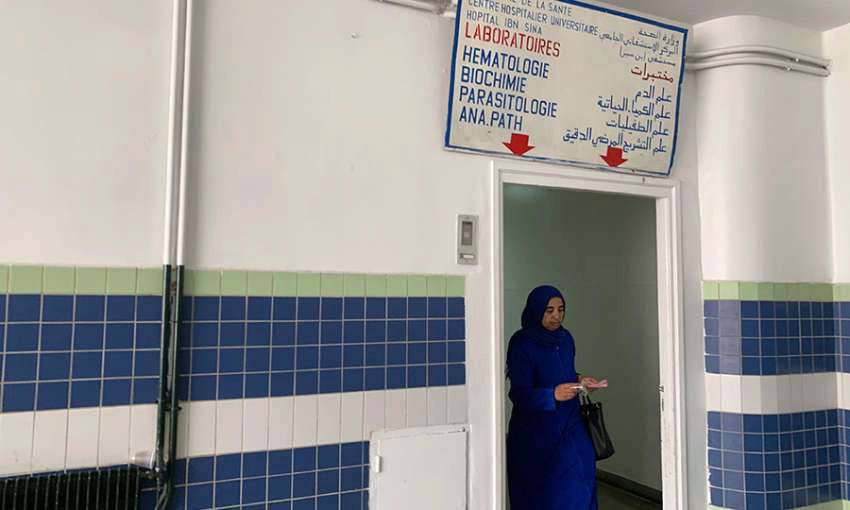 A woman walks out of the hematology laboratory in Hôpital Ibn Sina, a public hospital in Rabat and office of doctor and feminist Asma Lamrabet. Image by Samidha Sane.
Despite the North African country's desire to portray itself as a modern society, global disparities in women's health education are especially pronounced in Morocco. Virginity tests are employed to assess the virtue and social value of women and girls, presenting a double standard; males are often lauded for engaging in premarital sex—while females are ostracized.
In October 2018, the UN and the WHO called on several countries—including Morocco—to abolish the practice, condemning it as medically unnecessary, painful, humiliating, and traumatic human rights violation. In response, Moroccan government spokesperson Mustapha El Khalfi stated that the tests are not legally required before marriage. However, he failed to acknowledge that despite not being required legally, virginity tests are still rampant and valued in family, criminal, and legal matters in Moroccan society.
One year after the UN and WHO call to action, feminists and doctors in Morocco have led social awareness campaigns to spur progress. In December 2018, Betty Lachgar, founder of Mouvement Alternatif pour Les Libertés Individuelles, known as MALI—a civil disobedience movement in Morocco—released a statement titled "My Vulva is Mine," calling for social reform regarding virginity testing.
Source: https://www.34st.com/article/2018/08/home-wots-word-on-the-street-personal-narrative-misplaced-identity-student-penn?fbclid=IwAR3tton4lF1oYOAqVuch8_rJb4fA9Kd4d4AjuT4ZhhMkr2aJk7SqZ1GeuGE