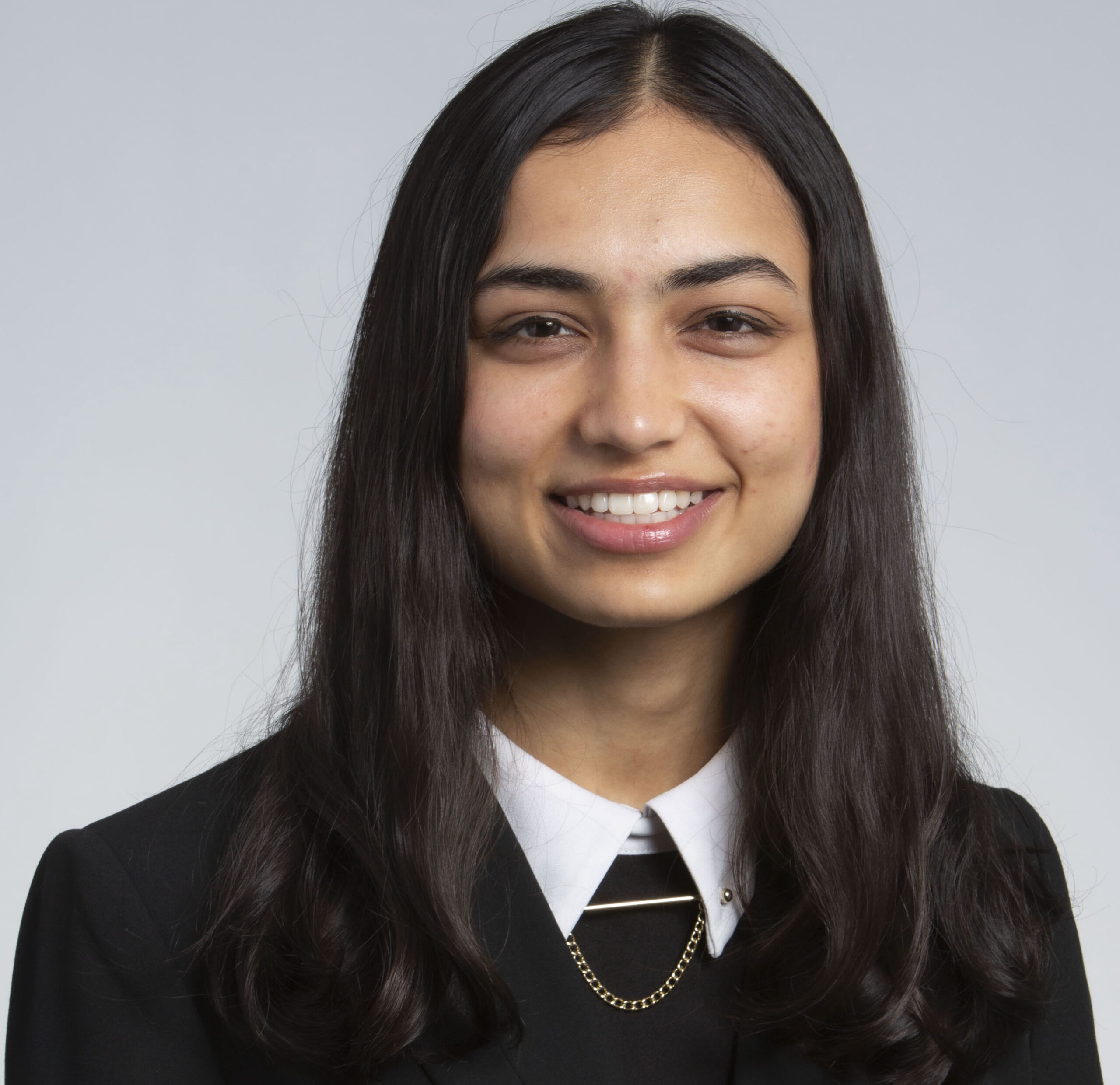 Esha Bansal
Class Year: 2019
Target Language: Spanish
Current Role: Completing MD/MPH degree at the Icahn School of Medicine at Mount Sinai. Joining as a resident physician in Internal Medicine at the Hospital of the University of Pennsylvania.
A Conversation with Esha Bansal (Huntsman 2019)
By: Nikita Manoj '26
What did you study at Huntsman (Target language, any minors if you had them) and what year did you graduate? 
I was a Spanish target and I graduated in 2019. My study abroad experience with Huntsman was in Barcelona, and I also did an additional minor in Spanish in addition to the Huntsman language requirements. 
What do you do now and where are you based? 
I've spent the last 4 years in New York City and I'm currently in my final year of the Global Health Scholars Program, pursuing an MD/MPH degree at the Icahn School of Medicine at Mount Sinai. After my graduation in May 2023, I'll be returning to Philadelphia as a resident physician in Internal Medicine at the Hospital of the University of Pennsylvania!
Why medical school after Huntsman? 
I've always had an interest in solving large-scale global problems, and I loved Huntsman for the focus it placed on language learning as well. My freshman summer, I worked on an independent project in Philadelphia on HIV/AIDS which turned into a thirty minute documentary film that went to the American Health Association's Global Public Health Film Festival. This experience enabled me to meet and talk to nonprofit researchers, public health leaders, and work with organizations such as Prevention Point Philadelphia, where I got to see physicians working on things I was passionate about. What solidified my interest in medical school, though, was the exposure that the international component of Huntsman gave me. During my study abroad experience in Barcelona, I was placed in an internship with the Public Health Agency of Barcelona, where we worked on STI testing in mobile clinics and observed community health workers advocate for newly-arrived immigrant patients. 
What was your favorite part of being a part of Huntsman? 
One of my favorite parts of Huntsman is definitely the relationships I've made; some of my closest friends are from Huntsman and the community is such a strong support system, including the Huntsman advisors. They really helped me plan out my post-graduation plans and career trajectory. Also, I loved the language oriented environment of Huntsman. I've never found a place that is similarly rich in terms of language exposure, and being able to be a part of this community enabled me to learn so many other languages on top of my target. 
How do you think the Huntsman Program impacted your professional and personal development?
In my professional development, the Huntsman Program truly set me up for an interdisciplinary career. I was selected as one of 14 recipients to the Fellowships at Auschwitz for the Study of Professional Ethics in Germany and Poland in 2022, a historical platform to talk about contemporary medical ethics issues. Having an economics, business, and international studies background has uniquely shaped my approach to medicine and set me up to be able to explore these unique opportunities within the realm of global health. Also, Huntsman as a community is a place where your individuality is valued. Going to medical school after getting an international business education through Huntsman was definitely an unconventional path. Within the Huntsman community, I found so much support and trust in my professional and educational vision. 
Where do you see the Huntsman Program going in the next 25 years? How is Huntsman preparing the next generation of International Leaders? 
To me, Huntsman is a unique diplomacy, policy, service-oriented arm of Wharton and the College of Arts and Sciences. In the next 25 years, I see the Huntsman program becoming increasingly interdisciplinary, looking towards the fields of medicine and other social sciences. The trajectory of the Huntsman program is trending in the direction of being more humanistic and service oriented, empowering its graduates to address global challenges like climate change, gender equity, and peace and conflict through multidisciplinary academic knowledge. Ultimately, the alumni network will also diverge into various unique fields, and pave the way for new, diverse opportunities. 
What's your favorite place you've ever been to? What's next on your travel bucket list? 
My favorite place I've ever been to is definitely Barcelona because it has everything you could ask for: beach, mountains, amazing architecture, world-class cuisine, walkable, friendly, and so much more. It's definitely one of my favorite cities in the world. I just returned from India a few weeks ago, and next I would really like to go to Japan and Korea. 
What advice would you give to current Huntsman students or what is something you wish you had known when you were a student yourself? 
Trust yourself! Keep believing and investing in yourself, even when it doesn't seem like everything is perfectly worked out. Keep following your passions and interests, and everything will fall into place at the right time. 
What has been the proudest accomplishment of your career? 
At the Icahn School of Medicine, I'm pursuing a dual MD/MPH degree and am also part of the Global Health Scholars Program. As my thesis for my Masters of Public Health in 2021, I wrote an article about environmental air pollution in Mexico City, focused on its impact on pregnancy. I was able to take two machine learning models to observe and found that there is a specific time frame in pregnancy during which exposure to ambient, fine particulate air pollution is correlated with adverse fetal neurodevelopment, as measured by children's performance on neurocognitive tests eight to nine years after birth. This was a very new topic in medicine and public health, especially because it incorporates various factors related to economics, urbanization, and industrial development in Mexico City, really highlighting how the Huntsman Program and what I've learned from it have translated to my professional life years later. 
What's your favorite thing to do for fun? 
Aside from going to the gym and cooking, I love to read! Recently, I've been reading mostly Latin American authors but I'm also very interested in Eastern European literatureI also love foreign films, and just recently watched Cairo Conspiracy, Close, and Broker in theaters.