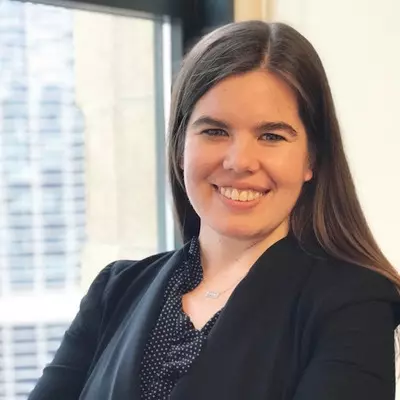 Julia Luscombe
Class Year: 2010
Target Language: French
Current Role: VP Strategic Planning & Portfolio Management at Feeding America
A Conversation with Julia Luscombe: The Journey from Social Impact at Huntsman to Addressing Hunger in the United States
By: Shriya Shah '25
Tell me about yourself. 
My name is Julia Luscombe, I am originally from Chicago & graduated from Huntsman in 2010. In reflecting about Huntsman before, and after Penn I was always interested in building opportunities for others and contributing to a more sustainable outcome in the United States. Working on complex problems, food systems in particular which require various people and partners to align action, excites me. Following Huntsman I completed a Masters in Local Economic Development from LSE through the Thouron Scholarship as well as a Fullbright in Ecuador. For the last five years, I have been at Feeding America and while I love being in my home base of Chicago, I love to travel whenever I get a chance. I have also managed to keep in touch with my target language of French by being an advisor for Alliance Française Chicago!
How do you think the Huntsman Program impacted your career trajectory? 
The global community was perhaps one of the most valuable components of Huntsman. Despite working at a domestic organization, I remain intentional about being connected in global discussions on food systems through Global Shapers, an initiative of the World Economic Forum. It is because of the unique relationships I built through Huntsman that validated how important it is for me to consistently expand my worldview. The core curriculum at Huntsman also helped bolster my understanding of the social sector, policy & business while the flexibility enabled me to pursue my own interests. 
I was fortunate enough to take advantage of the incredible research resources at Penn through being a University Scholar. There, I conducted research on alternative currencies and utilized a PURM grant to travel to communities in the United States, South Korea and Japan, analyzing local currencies, why they exist and how to increase liquidity in the local economy. This project introduced me to an entirely different way of thinking about economics and development, which I use in my work at Feeding America now. 
How did you come to realize that your interests were in the NGO space?
Post-graduation I worked in consulting, and gained a lot of meaningful experience adding tools into my toolbox & experimenting with leadership and collaborative styles. At Penn, I was involved in Habitat for Humanity and the Bread & Roses Community fund. I always knew I wished to work in the social impact space, however through Huntsman I got the unique opportunity to understand the business side of social enterprises. To this day, the complexities of shifting business to social good & maximizing both elements is vital to my work and research interests. 
Transitioning to your work today, what does a typical day look like as the Vice President of Strategic Planning & Portfolio Management at Feeding America? 
Well, to be honest during the pandemic a normal day was incredibly hard to come by, but my role focuses on facilitating the near and long term planning practices to articulate our position as a national organization and ending hunger in the US. Most of my work centers around the people in the organization as well as our network of foodbanks, thus managing processes and using the learning to adapt our actions is key. In terms of daily tasks, I meet with different departments, support them in the planning processes & execute national tracking strategies. If you told me while I was at Huntsman that I would come to work in hunger relief in the US, I would likely not have believed you. Yet, after being here it is astounding to learn how much work and learning needs to be done. Outside of this work, I try to volunteer at our food banks as well to have direct interaction with the most important stakeholders – the individuals & communities we serve. 
What do you see as the biggest challenges of ending food insecurity over the next few years and how do you see the intersection of for-profit and nonprofit coming together?
38 million people in the US are food insecure and a large portion are children, which is staggering to see given we are the wealthiest country in the world. It is frustrating to see that we have the resources, technology & knowledge in this country to make hunger a non-issue but we see tradeoffs being made. Our biggest challenge is aligning policy and business to make sure we have the resources people need to thrive, and we learnt a lot from economic policy interventions & solutions during the pandemic. There is also a certain degree of stigma associated with hunger, and Feeding America's work on trying to uplift the voices of the people we serve is attempting to break these preconceived notions. 
What advice do you have for current Huntsman students?
Take advantage of the wide breadth of opportunities that Huntsman & Penn have to offer. The curriculum gives you so much flexibility to pursue independent research, find organizations which add value to your time at Penn. Each one of you has such a depth of perspectives you can bring to the table and it will be imperative to do so to address all of the complex problems facing the US and the world.