Mariana is a senior from Mexico targeting Russian and concentrating in Business Economics & Public Policy, and Finance.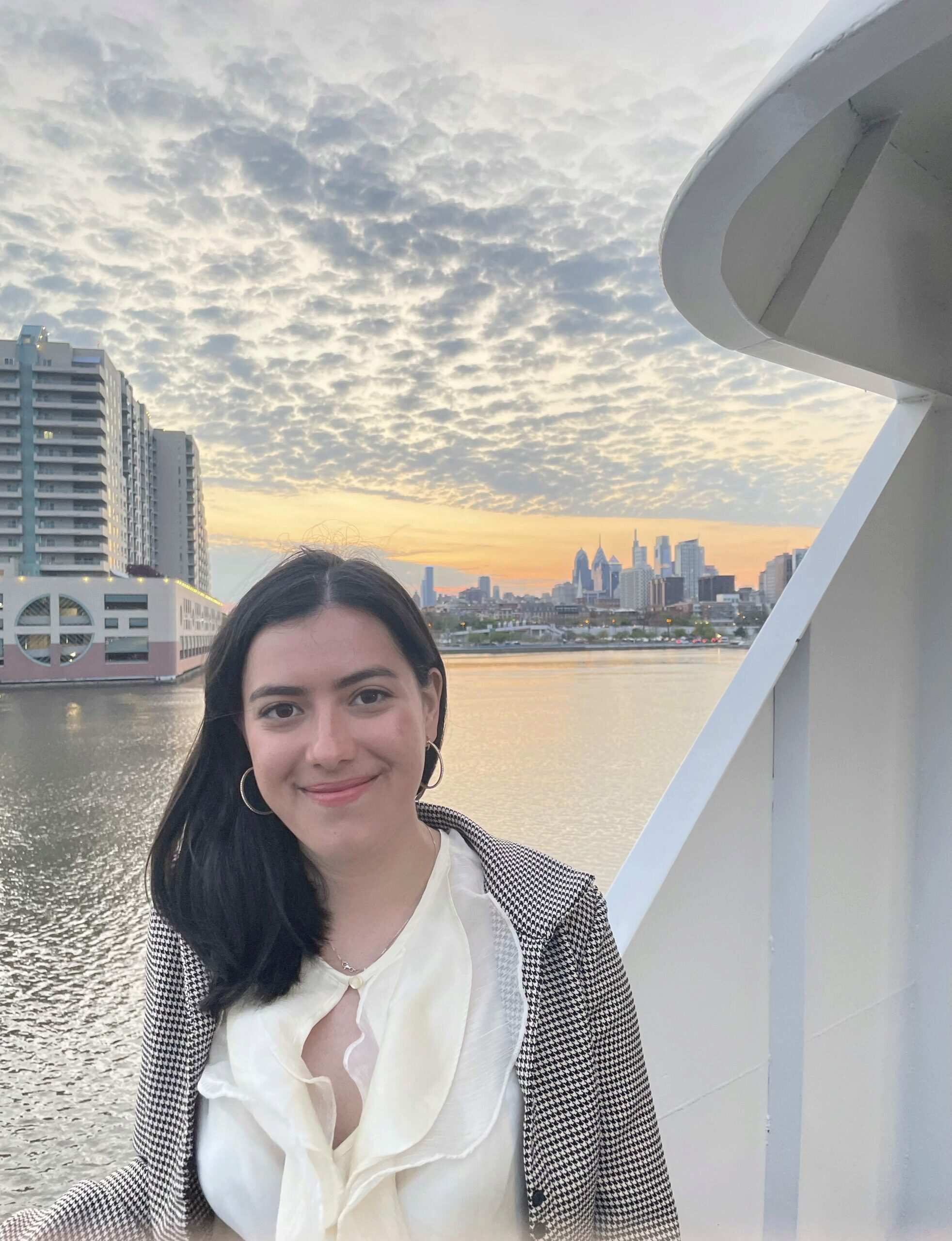 Tell us about your background.
I was born and raised in Guadalajara, Mexico, and I came to the US for my undergrad at Penn. All of my family is from Mexico, so I don't have the most international background, but prior to Penn I had traveled to the US, Europe and did an exchange program in Berlin. Most of my international exposure comes from languages because I was really into learning new languages when I was in middle school. I learned French and German at a young age. Then during high school, I continued with German and then that's when I started Russian, which I continued at Penn. 
How do you feel about your Penn experience?
I really love it! I started loving it, and I always say that my love for it continues to grow every year. I love Penn, I love Huntsman, and that has always been the case. I think I've had an amazing experience for multiple reasons. Sometimes it has been a little overwhelming, but always good.
What is special about Huntsman?
I've asked this question multiple times and people always talk about the people – I think it's on point. I would say Huntsman is a small community within a large school with a lot of opportunities. It's great to be a Huntsman student because you have Marco and Kelly to help you out throughout the entire process. You also have a group of 45 incredible people who are extremely interesting and passionate. Everyone at Penn is very interesting, but Huntsman brings together very international-minded people and puts us all together in the same physical space – even in Kings Court. It's very special to belong to a small community where everyone knows each other. I feel very proud to be a part of Huntsman.
There are so many things to do at Penn, how do you manage to do everything?
I think I cut off the things that I don't want to do as much as I can. Penn is a great place where you can always be doing something that you truly want to do and if that's not the case, at least for me, then it must be something mandatory. I would never do something that I don't want to do unless it's required because there are so many things you can do that you actually love. Being selective on how you spend your time has really helped me. Academically, I mostly tried to do two or three hard Wharton classes each semester and balance it out with classes in the College that I was excited about.
What are some hobbies/interests you have developed over the years? 
I love going to museums, and I think Philly is a great place to do that. I like to hang out with friends, especially going for walks or grabbing coffee – my favorite thing to do. Reading is something I enjoy as well, and I hope I find more time to do that. I also really enjoy watching movies. In terms of interests, I think I have fallen in love with Eastern and Central Europe. And I actually discovered my interest in a career in finance at Penn.
Looking back on your time at Penn, what advice would you give to your freshman self?
I took too many classes freshman and sophomore year. I was scared of not making the most out of Penn academically because there were so many things that I wanted to explore that I hadn't had the opportunity to do so before. I would've tried to have more fun, because I feel like Penn made me a more social person. During the pandemic, I reevaluated a lot of things and I was appreciative of hanging out with people and doing more things outside. For incoming freshmen, I would say just put yourselves out there. In terms of academics, no matter what you do, fulfilling the requirements gives you enough exposure. This semester I took less classes, and I performed much better so don't overburn yourself with too many commitments. 
Tell us about your study abroad.
That was such an adventure because it wasn't meant to happen with the pandemic! I initially wanted to study abroad twice: I was gonna go to Moscow, do my internship in New York, and then go to Paris. Studying abroad for me was always something really, really special. At one point, it got extremely hard to study abroad, but I remember Marco once saying: "All she wants to do is study abroad". 
I ended up going to Scotland – a very unconventional path for Huntsman students. I don't think anyone did it before, and I doubt anyone will in the future. It was very much unrelated to Russia, but it was still a very valuable experience. I got to see what it was like to study in the UK, and met amazing people. I did a lot of independent travel to Eastern and Central Europe, which is more closely related to Russia. I managed to figure out ways to keep up a Russian target spirit while I was abroad. Any opportunity to experience things abroad is worth taking, no matter what, and I'm glad I stuck with it. 
What's an international issue that you're passionate about?
I'm very passionate about globalization, more specifically about borders and citizenship-related things. I have certain ideas about how the world should be more open and how I don't think we should have so many barriers to enter a certain place, I think it's deeply unfair. Mexico is an amazing country and I'm glad I was born there – I got lucky. However, I think it's unfair for someone to be born somewhere and their entire life to be fixed there because of that. I think global mobility is a big one for me, and reforming globalization. I think there's a lot of opposition to globalization today and I can see why. I'm not saying the system is perfect because it's actually deeply unfair and unequal. But I love multilateralism, global cooperation and international trade, which is something I wrote in my Huntsman essay. 
What do you see yourself doing in the future?
When I was growing up I thought, and I still think the same way, that the one requirement for me to be happy or have a life that I'm proud of is for it to be international. I think I can be anything as long as it's related to the rest of the world. I would perhaps love to work for the World Bank, in a group where finance meets global leadership, that would be super fun. I'm really open minded. I might pursue a Master's Degree in France related to international relations after a couple of years. I've always been fascinated by Europe and the concept of the European Union because it brings together different countries and facilitates people moving freely across countries. Ideologically, I would love to live in the EU to understand it more, and I hope to end up doing something related to Estearn Europe or Russia at some point. 
We are looking for passionate writers! If you want to interview another fellow Huntsman student or write an article for the Huntsman student blog reach out to willoww@wharton.upenn.edu or marianav@wharton.upenn.edu