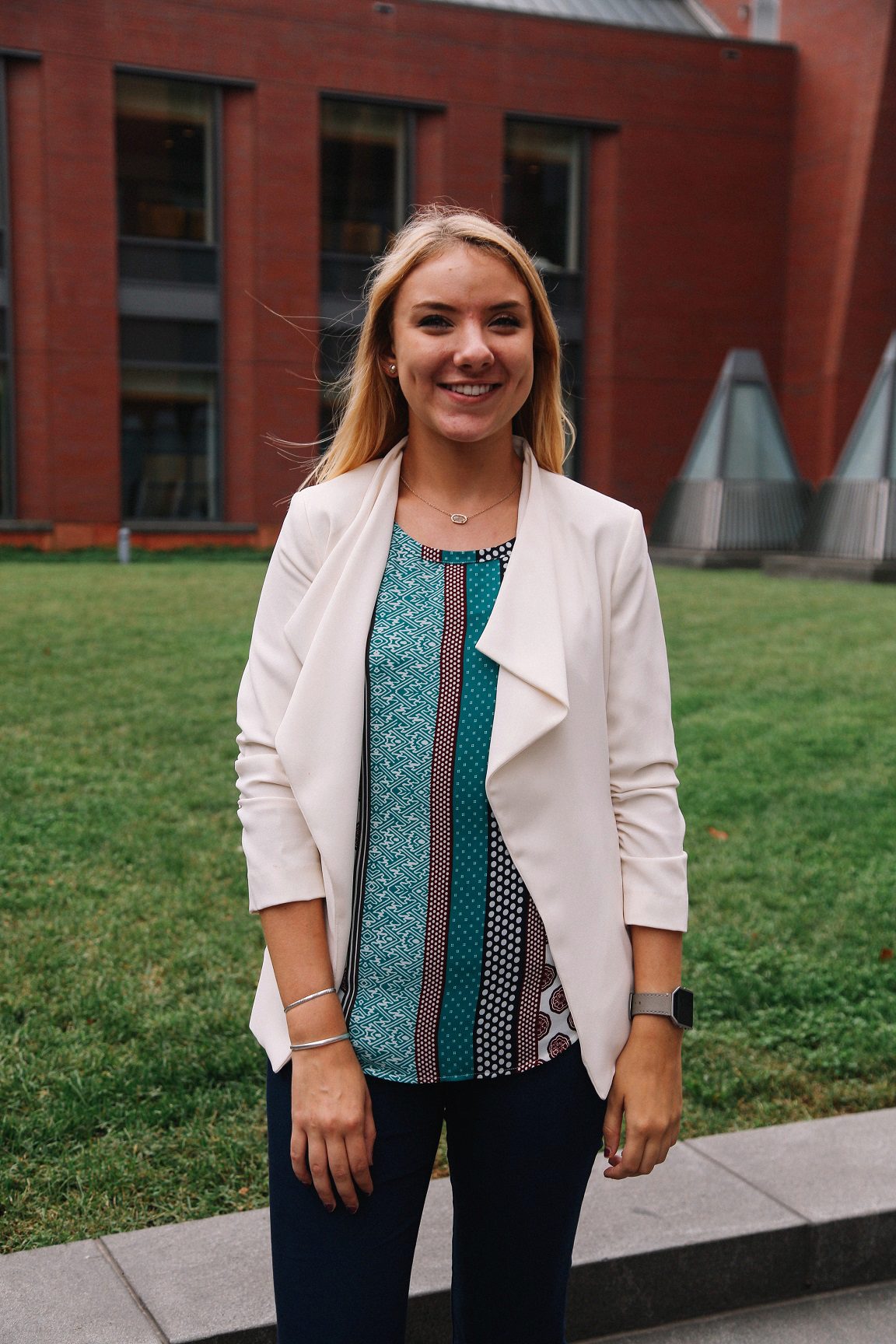 Becca Bean
Hometown: Arlington, VA
Class Year: 2021
Target Language: Spanish
Study Abroad: Buenos Aires, Argentina
Minor: Urban Studies
Wharton Concentration: Management | Social Impact & Responsibility

Why did you choose the Huntsman Program?
Huntsman has allowed me to take advantage of the resources at both Wharton and the College. I love that my schedule is a blend of business and liberal arts – completing problem sets and readings as well as midterms and papers gives me a balanced schedule. I was also interested in the community provided by the program. Our freshman hall gave me my first home at Penn and Huntsman students and alums continue to help me navigate not only the university but careers and the world.
What has been your favorite thing about the Program? What aspects of the Program have been most useful to you?
I love our email listserv. I get excited about our program emails detailing the events and opportunities in our community. It seems like there is always something happening in the program lounge – speakers, study breaks, and everything in between. This is a great way to connect with current students and alums and enrich my overall Penn experience.
Which courses have you enjoyed the most? Why?
I've loved the urban studies courses that I've done as a part of my sector requirements for the College. I've been able to explore topics like homelessness, gentrification, urban markets and how these intersect with business. Wharton electives like BEPP 214: The Nonprofit Sector have also stood out to me. We applied topics from the Wharton core – management, marketing, finance – to nonprofit organizations.
How do you feel Huntsman has prepared/will prepare you to reach your career and personal goals?
The interdisciplinary nature of the program has allowed me to explore a lot of my interests and how they relate to one another. For instance, social impact and management alongside urban studies courses have opened my eyes to the many ways to approach social issues. The Huntsman curriculum and community have provided me with a jumping off point for a career that will most likely span industries.
What skills will you take away from your study abroad experience? What part of this experience was most valuable to you?
Studying abroad in Argentina helped me understand the importance of this country in Latin America and the world. Buenos Aires provided a distinctly urban experience where I spent hours navigating the subway to get around the city. My classes explored some of my existing interests of gender, history, and social impact as well as some new ones like art history. One of the most valuable components was the homestay which helped me practice Spanish day in and day out and live with a real porteña.
Are you involved in any co-curricular activities at Penn? What is your role?
My sophomore year I co-founded the Gender Balance Consulting club on campus. This group focuses on building pre-professional skills while consulting with organizations on their gender strategies. I'm also a part of the Wharton Social Impact Advisory Board, Turner Social Impact Society, and Authors@Wharton Speakers Committee. Finally, I help students with their public speaking as a Communication Within the Curriculum Advisor and TA for Wharton 201: Management Communication.
Where have you interned?
Before being at Penn I interned at Running Start, and Ashoka. As an undergraduate student I have interned at the EGADE Business School of the Tecnológico de Monterrey in Mexico, The Center for High Impact Philanthropy at Penn, and while I was abroad, I interned at NXTP Labs in Buenos Aires.