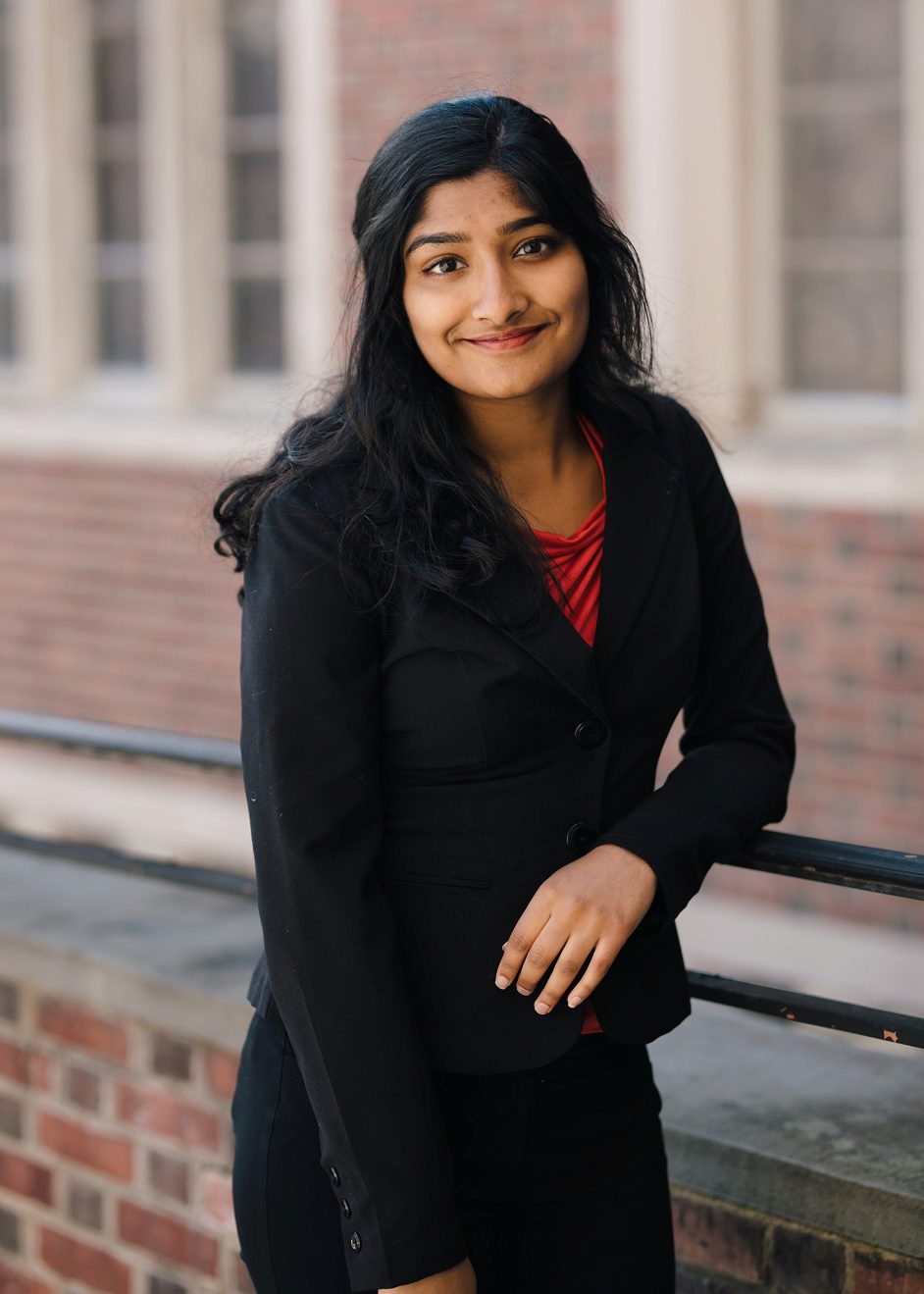 Samidha Sane
Hometown: Pittsburgh, PA
Class Year: 2022
Target Language: French
Study Abroad: TBD
Minor:
Wharton Concentration: Undeclared

Why did you choose the Huntsman Program?
Deeply interested in foreign relations, economics, and politics, Huntsman was the perfect combination of international and language studies and technical business skills that I was looking for while applying to colleges. Actively involved in community service, nonprofit, and human rights work during my high school years, I was excited by Wharton's social entrepreneurship and community initiatives. Moreover, high school activities like debate and political internships had long fostered my interest in foreign and public policy, further cultivated by the international studies component of the Huntsman Program. Reading the student and alumni profiles on the Huntsman website during my junior year, I knew that the program would provide me with an interdisciplinary perspective to approach the world's most pressing problems.
What has been your favorite thing about the Program? What aspects of the Program have been most useful to you?
The Huntsman community is easily my favorite part about both the Program and Penn itself. Living in KC3 as a freshman with 49 other like-minded, driven students from all over the world was the most fun and educational experience I could have hoped for coming in to Penn as a freshman. As I shared my mom's homemade Indian food with my roommate, she explained Mexican holidays and traditions from back home–moments like these are what make the Huntsman community a strong, diverse family.
Which courses have you enjoyed the most? Why?
My French and political science classes! The language department at Penn is simply amazing–not only have my French abilities greatly improved but I feel more comfortable to converse in the language with students and professors alike. Additionally, a number of political science classes can be used to fulfill the international studies aspect of the component. Spring semester of my freshman year, I took American Foreign Policy with Professor Dominic Tierney–from theories about bureaucratic politics to America's involvement in modern wars, every topic was told like a story and further piqued my interest in global issues.
How do you feel Huntsman has prepared/will prepare you to reach your career and personal goals?
Going forward, I hope to be making an impact on the world, especially by utilizing economic principles to aid international development and policy work. Driven by social impact and global entrepreneurship, I yearn to be engaged in human rights work, aiding marginalized communities in the U.S. and beyond. Accordingly, I am confident that Huntsman's interdisciplinary curriculum will adequately prepare me to take on any career in both the public and private sectors whether that be banking, law, politics or another field.
Are you involved in any co-curricular activities at Penn? What is your role?
I am a dancer on Penn Masti, Penn's premier co-ed Indian fusion dance team, as well as a project team member on SIC (Social Impact Consulting) where I help provide pro-bono consulting services to local Philadelphia non-profits and international organizations working to address some of the most pressing issues of our time. I am also on the board of Wharton Women as VP of Alumnae Relations as I hope to help improve the experiences of alumnae and strengthen ties between current students and alumnae in the Wharton network. Finally, I serve as the Partnerships Chair on the Penn Period Project to help advance menstrual equity–an issue I have working with since high school– in Philadelphia and beyond.
Where have you interned?
This summer, I will be going to Paris, France to study French and immerse myself in French and European culture at the Paris Institute of Political Studies, known as Sciences Po. Having access to an environment that fosters cultural exposure, fluency, and confidence is an invaluable resource for my freshman summer and my overall Penn experience. After that, I will head to Morocco as part of the Pulitzer Center International Reporting Student Fellowship program that is partnered with the Middle East Center (MEC) at Penn. As part of this fellowship, during the months of July and August, I will take the role of a student journalist–independently traveling through Morocco, establishing partnerships with women's rights organizations, interviewing locals about cultural stigmas or taboos associated with women's reproductive health issues, and ultimately reporting and publishing my findings on major news outlets. My two months in Morocco will provide me with unique experiences in international studies, journalism, and social reform.